Something to Celebrate at Khayelitsha Animal Clinic
In the mid-1990's, a Khayelitsha community member recognized that his neighbors did not know how to care for their pets. He took a shopping trolly and went door-to-door, feeding dogs and cats and educating people on their pets' needs. Mr Joe Manchu soon attracted volunteers including many community children. A bath was donated which was used for dipping pets with fleas and ticks. Thereafter a shipping container was donated which became the first ever animal clinic in Khayelitsha. 
An 25 years later, Mdzananda Animal Clinic is celebrating a quarter century of helping, healing and rescuing pets in Khayelitsha. The clinic now treats over 1,000 animals per month through their hospital facility, homeless shelter, mobile clinics and outreach programes. Throughout this time, they have also put the pets' human companions at the forefront, educating, earning trust, and working with them to become the best pet guardians they can be.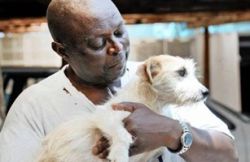 Lazola Sotyingwa was one of the children who helped Mr. Joe with his animal saving efforts. He is now one of the Clinic's Animal Welfare Assistants, and he couldn't be more proud. "At the beginning we had no running water or electricity. We carried buckets of water and ran extension cables from the neighbors. Today we are big and we help so many animals. It's thanks to Mr. Joe that the pets of Khayelitsha have help today."
The organization's vision is to create a community which loves animals. They believe that an animal-loving community is a healthy community. By loving an animal one learns qualities such as respect, trust, non-violence, responsibility, and companionship. These are often not taught in townships due to the enormous economic and living condition difficulties which take priority. By providing veterinary care, education and by forming partnerships inside and outside of the community, the organization is well on the way towards its vision.
Dr Brian Bergman, Senior Veterinarian, says that over the 25 years he has noticed a significant shift in the mindset of the people. "Where previously pets were simply objects protecting the home, many of them are now companions sleeping in peoples' beds. Our welfare services and educational programs have really transformed many pet lovers in the community."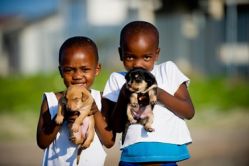 In celebration of their 175th dog year birthday (25 human years), the organization will be hosting a celebration on the November 13, 2021 from 11 am to 4 pm at the Clinic. Members of the community are invited to join and the first 200 pets will receive a free rabies vaccination and blanket. At the event Mr. Joe will speak about his hard work and vision for the future and the Isibane seAfrica choir will provide music. Members of the public are also welcome to join on the day and visit the clinic for a tour.
If you wish to support the organization into its next 25 years, you are welcome to become a Paw Member (monthly donor) at www.mdzanandasecure.co.za

Source: Press Release, November 10, 2021