Home
Gemini's Blog
Kick off the New Year at the Central Jersey Cat Fanciers Cat Show!
Kick off the New Year at the Central Jersey Cat Fanciers Cat Show!
Central Jersey Cat Fanciers is staging their seventeenth annual cat show at the Hanover Marriott in Whippany, New Jersey, on January 5-6, 2019. The event will host approximately 200 cats from all over the country as well as outside the United States. 
The competing cats will be judged in 7 different rings each day. Spectators will have  an opportunity to see many different breeds including Bengals, Sphynx, Maine Coons, Siamese, Oriental Shorthairs, Ragdolls, Munchkins, Persians, Toygers, Savannahs, Siberians, and many more. There is also a special category for household pets and kittens, which need not be purebreds. Final awards will be presented in each category.

Get ready to shop while you are there! Vendors will be on site selling gift items for you and your pet, feline scratching posts, jewelry, and cat toys. This is your chance to find some unusual items as well as magazines.
Animal rescue groups Angel Paws, Only Maine Coons Rescue, and Purrfect Pals Inc. Hanover will be there to showcase many cats and kittens in need of forever homes. You just might find your new best friend at this event!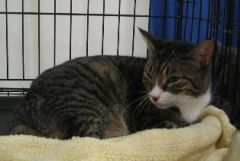 The price for admission is $10.00 adults, $7 seniors, $7 children (4-12) and children under age 4 can enter at no charge. Food is available at the hotel, so plan to spend the day! Show hours are 9:30 a.m. - 5 p.m. on Saturday and 9:30 a.m. - 4  p.m. on Sunday.
For further information, email nycsa@aol.com or call 570-807-0406. You can reach the Marriott at telephone 973-538-8811 or search online for directions to the Hanover Marriott, 1401 NJ-10 East, Whippany, New Jersey.
Recommended Reading:
The Parade of Breeds at the Central Jersey Cat Fanciers Cat Show
---