Home
Gemini's Blog
Houston SPCA reunites pets with owners in Hurricane Harvey aftermath
Houston SPCA reunites pets with owners in Hurricane Harvey aftermath
According to the Houston SPCA's latest press release, the organization has rescued more 1,200 companion animals, horses and farm animals in the aftermath of Hurricane Harvey. They are pleased to announce that over 200 animals have been reunited with their owners to date while more reunions are expected in the near future.
Owners still searching for their animals after Hurricane Harvey are encouraged to visit the Houston SPCA website and call 713-869-7722 and provide the Pet ID number that corresponds with the photo on the website for further assistance.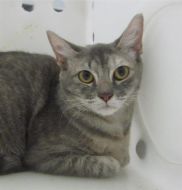 Adoptable Cat "Spice" - credit Houston SPCA website
An additional animal location resource is a free app, Finding Rover, which uses facial recognition technology to reunite animals with their owners. Pet owners can use the app to upload a picture of their lost animal while other users can upload pictures of animals they have found. Those pictures are scanned through all the "lost" photos and then matched based on the technology before the owner is notified.
The hundreds of animals rescued by the Houston SPCA are also being cared for and treated at veterinary clinics under Operation Reunite through the SPCA's partnership with the Texas Veterinary Medical Association. Foster homes are needed, and those able to help are encouraged to visit FosterAHurricanePet.org which is a neighbor-to-neighbor platform that connects people in need with those who want to foster a Harvey animal.
Companion animals are not the only animals rescued after Harvey. Houston SPCA's Wildlife Center of Texas has rescued or taken in more than 700 wildlife animals including rare birds, mammals and reptiles. They were even able to rescue an endangered, 90-pound alligator snapping turtle that has since been returned to Buffalo Bayou. The Wildlife Center continues to care for and release these native wildlife animals that were waterlogged or seriously injured when they arrived at the center.  
The Houston SPCA continues to be the main distribution hub for pet supplies for individuals, shelters, rescues and other organizations in need of assistance. They have distributed more than 40 tons of supplies to Harris County Public Libraries, the Houston Food Bank and others throughout the community.
The Houston SPCA is a private, 501(c) (3) organization that is not affiliated with any other SPCA, and receives no government funding or assistance from other animal organizations. The Houston SPCA relies exclusively on donations from businesses, grants and animal lovers to uphold its mission. It was founded in 1924 and is the city's first and largest animal welfare and protection organization in the region. Its mission is to promote commitment to and respect for all animals and free them from suffering, abuse and exploitation. Please visit the Houston SPCA website for more information.
Please share this information with those who might need to know. Thank you.
Susan, Taurus and Gemini
Save
Save
Save
Save
Save
Save
---
---