Saving Junior – our cause this National Feral Cat Day
---
On this National Feral Cat Day, let's thank all those who take on the task of trap-neuter-return. It becomes a never ending cycle for those who choose this path to save homeless cats and help reduce the feral cat population. Sometimes rescued feral kittens are even deemed adoptable into homes, but this was not the case for Junior, a sickly kitten later diagnosed by UC Davis with a life-threatening Portosystemic Shunt, otherwise known as a liver shunt.
Junior was part of the last litter of kittens rescued out of a trailer park. The rescuers had been trapping regularly there for 4 years. Last May they not only caught the kittens but finally caught their mom.  Junior was too sick to be put up for adoption and found himself in the care of the woman who rescued him.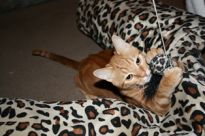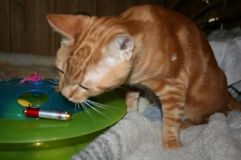 While the prescription diet and medications have helped, Junior does display "episodes" from time to time. He is monitored closely while fundraising efforts continue with a goal of $7,000 to cover the necessary surgery.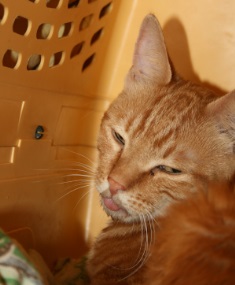 Gift baskets and T-shirts are a few ideas that have helped increase Junior's medical fund.  But there is still a long way to go.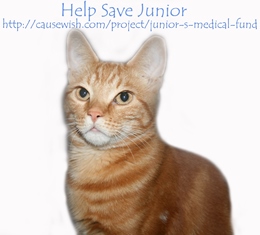 On this National Feral Cat Day, perhaps you can find it in your heart to help just one more feral. Visit Junior's medical fund online and Like the Junior Barkavious Facebook page to keep informed of his progress.
Read more about Junior and see additional photos here:
Update on Junior – can you help?
Saving lives, one cat a time…
Susan, Taurus and Gemini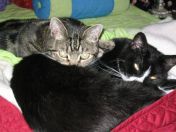 ---