Home
Gemini's Blog
Team effort provides emergency relief to animals displaced by Thomas Wildfire
Team effort provides emergency relief to animals displaced by Thomas Wildfire
Sometimes it simply "takes a village" to achieve results. To help animals in need affected by the deadly Thomas Wildfire in California, American Humane, Chicken Soup for the Soul, the Banfield Foundation, Zoetis, and philanthropist Lois Pope teamed up and made it possible to deliver much needed emergency relief to animals taking refuge at Santa Paula Animal Rescue Center.
According to the recent press release, American Humane's new animal rescue vehicle brought 3,000 pounds of free Chicken Soup for the Soul Pet Food to help approximately 160 lost dogs and cats at the Santa Paula Animal Rescue Center (SPARC).  The center is Ventura County's first and only "no-kill" animal shelter. These animals had been evacuated from the shelter to escape the smoke and flames, but were safely returned to the shelter after the fire was beaten back.
The donation is part of a national campaign by American Humane and Chicken Soup for the Soul Pet Food called "Fill-a-Bowl … Feed-a-Soul™" that aims to deliver one million meals to shelter animals in the greatest need. The campaign has benefited the animal victims of Hurricanes Harvey in Texas and Irma in Florida, as well as those caught in flood-devastated Louisiana.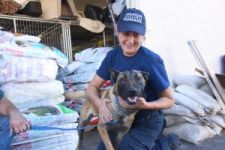 Dr. Lesa Staubus tends to a canine wildfire victim. Photo courtesy of Araya Diaz.
Lois Pope, an internationally renowned philanthropist, underwrote the new American Humane Rescue vehicle dedicated to helping animal victims of disasters and abuse throughout the state. Banfield Foundation is funding operational costs as part of its Disaster Relief Grant program, which is available to nonprofit animal organizations and local or state government agencies whose communities suffer the impact of disasters. Grants of this nature helped fund veterinary care for pets impacted by wildfires and pet relocation following catastrophic flooding relief efforts in the aftermath of Hurricanes Harvey, Irma and Maria. Zoetis, a leading animal health company, helped sponsor the rescue vehicle used to deliver the food.
Dr. Robin Ganzert, President and CEO of American Humane expressed her heartfelt thanks to those who came together in this effort to bring relief to the displaced animals possible.
American Humane is the country's first national humane organization.
Recommended Reading:  
Houston SPCA reunites pets with owners in Hurricane Harvey aftermath
Susan, Taurus and Gemini
---
---