Book review: Taming Me, Memoir of a Clever Island Cat
If you have an interest in feral cats, trap-neuter-return, or animal rescue efforts and cats in general, you should like this book. It's a novel about Lucy Miracle, a feral kitten rescued by a caring person on a private island in the Bahamas called Cat Cay. The story is told in Lucy's own words from her own point of view.
Yes, this kitten understands human language. That's what makes the book a charming read. The kitten watches, listens, understands, thinks and feels emotion. She makes decisions and strategizes her way around in her world on her terms.
As the story unfolds, you witness Lucy's thoughts when she is handled by a human for the first time, you experience her first "meow" to her human guardian, and you learn how she decides to make her first successful venture to the litter box. She also strategizes on how to make her new housemate cats, Frisco and Fred, like her. It takes a while, but she finally makes a positive connection.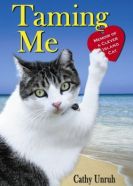 cover credit: Collage Books Inc.
The story also depicts the positive and negatives feelings different humans hold toward feral cats. One resident on the island is out to kill them all, while Lucy Miracle's guardians become the saviors by establishing a successful Trap-Neuter-Return (TNR) program with feeding sites and caretakers. They work to help change the mind of the feral cat aggressor.
Collage Books Inc. launched the book in mid-October a while back to coincide with National Feral Cat Day on October 16. The author is Cathy Unruh. The book is available at Barnes and Noble, on Amazon and Apple, and at various other booksellers.
The book is endorsed by Alley Cat Allies. To learn more about Trap-Neuter-Return and how it is grounded in science, visit this Alley Cat Allies website page.
First published on Examiner.com - National Cats

Susan, Taurus and Gemini
You might also like learning about:
Sweet Pomchu - Children's book highlights child's special friendship with a cat
Jackson Galaxy goes on tour with Catify to Satisfy
---
---