Canine Acupuncture demonstration at the Hunterdon County 4-H Fair
A few years ago I had the opportunity to watch an animal acupuncture presentation at the Hunterdon County 4-H and Agricultural Fair. The "Canine Acupuncture" demonstration was presented by Shari Silverman, VMD. For those who had never seen this form of pain management process up close, it was an informative and inspiring experience.
"Pain management for animals can take many forms," said Dr. Silverman.  "For those who want to pursue an integrative therapeutic treatment, acupuncture should certainly be considered."
In her practice, Dr. Silverman works with horses, dogs and cats.  As animals get older, they slow down, and sometimes pain and arthritis set in.  Acupuncture can be offered as an additional treatment option to increase the efficacy of traditional treatments. Acupuncture, as a treatment option, has minimal side effects and can be used simultaneously with most drugs or other therapies.
 "The first thing I do when a dog is brought to me for treatment is talk to the owner about the pet's symptoms and perform a physical examination," said Dr. Silverman. "I observe how the dog walks, and I palpate and check for swelling and areas of discomfort."
The dog used during the presentation is named Sassy.  She had been treated three times in the past by Dr. Silverman, and her owner reported she was doing much better.  She had always been a very active dog, but at 10 years old, she was showing signs of discomfort before treatments started.  After only three treatments two weeks apart, she is much happier and doing very well.
The needles used in acupuncture are very thin and flexible.  They are inserted into "acupuncture points" on the body which correspond to the nerves that run throughout the body.
"As I insert the needle, the little tissue fibers grab the needle and send a signal to the brain indicating this is an area that needs to heal," said Dr. Silverman.  "In turn, the brain sends out a chemical release including serotonin and endorphins to the injured area to clear the inflammation and begin the healing process."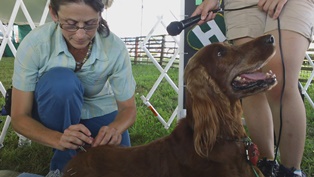 The animals feel little, if any, sensation when the needles are inserted and usually do not require restraint.  The needles are left in for 15 to 30 minutes.
"I typically end the treatment with massage and perhaps laser therapy," said Dr. Silverman.  "Massage is something you can perform on your animal at home, and they really enjoy the experience."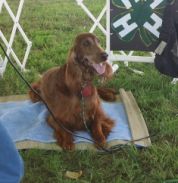 Dr. Silverman is a graduate of the University of Pennsylvania's School of Veterinary Medicine.  In addition, she is a graduate of Medical Acupuncture for Veterinarians and Spinal Manipulation for Veterinarians. She has also studied Postural Rehabilitation, Laser Therapy, Myofascial Release, Trigger Point Therapy and Massage Therapy.
---
 First published on Examiner.com - National Pet Health

---