Waiting for Hurricane Sandy to Arrive
---
Include your pets in your disaster preparedness plan…
As Hurricane Sandy makes her way up the East coast heading for landfall in New Jersey, we hope by now everyone with pets have their disaster preparedness plans in place.
Do you have your emergency supplies ready?  The ASPCA recommends that the list should include:
Pet first-aid kit
3-7 days' worth of canned (pop-top) or dry food
Disposable litter trays (aluminum roasting pans are perfect)
Litter or paper toweling
Liquid dish soap and disinfectant
Disposable garbage bags for clean-up
Pet feeding dishes
Extra collar or harness as well as an extra leash
Photocopies of medical records and a waterproof container with a two-week supply of any medicine your pet requires
Bottled water, at least 7 days' worth for each person and pet
A traveling bag, crate or sturdy carrier, ideally one for each pet
Flashlight
Blanket for use in scooping up a fearful pet.  Scruffing is a good way to pick up a cat.
Recent photos of your pets (in case you are separated and need to make "Lost" posters)
Especially for cats: Pillowcase or EvackSack, toys, scoopable litter
Especially for dogs: Extra leash, toys and chew toys, a week's worth of cage liner.
Remember, if you must evacuate, never leave your pets behind.  First, look for shelter with family or friends who will also welcome your pets. Seek out pet-friendly hotels, and if you must move to a Red Cross shelter, choose a shelter that takes in pets. Not all shelters do.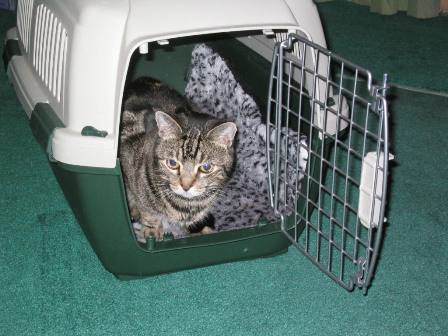 The ASPCA website also offers advice for those with birds, reptile and small animals.
Special Considerations for Small Animals
Small animals, such as hamsters, gerbils, mice and guinea pigs, should be transported in secure carriers with bedding materials, food and food bowls.
Items to keep on hand: Salt lick, extra water bottle, small hide box or tube, a week's worth of bedding.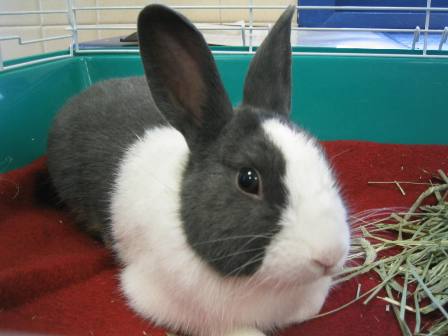 Special Considerations for Birds
Birds should be transported in a secure travel cage or carrier.
In cold weather, make certain you have a blanket over your pet's cage. This may also help reduce the stress of traveling.
In warm weather, carry a spray bottle to periodically moisten your bird's feathers.
Have recent photos available, and keep your bird's leg bands on for identification.
If the carrier does not have a perch, line it with paper towels that you can change frequently.
Keep the carrier in as quiet an area as possible.
It is particularly imperative that birds eat on a daily basis, so purchase a timed feeder. If you need to leave your bird unexpectedly, the feeder will ensure his daily feeding schedule.
Items to keep on hand: Catch net, heavy towel, blanket or sheet to cover cage, cage liner.
Special Considerations for Reptiles
A snake may be transported in a pillowcase, but you should have permanent and secure housing for him when you reach a safe place.
Take a sturdy bowl that is large for your pet to soak in. It's also a good idea to bring along a heating pad or other warming device, such as a hot water bottle.
Lizards can be transported like birds (see above).
You can read the full article here for additional tips.
For everyone in Sandy's path, humans and pets, stay safe.
Susan, Taurus and Gemini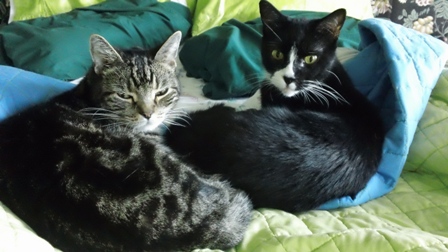 ---