Adopt-A-Senior-Pet Month
---
Celebrating Senior Pets
As November Adopt-A-Senior-Pet Month draws to a close, I thought I would take one more look at how shelters in our area and around the country strove to create awareness for the benefits of senior pet ownership.  Here's a look at a few:
SAVE, A Friend to Homeless Animals where I volunteer operates a year-round program to benefit senior cats and dogs.  As noted on SAVE's website page, "This program was developed to help find new homes for the numerous mature cats and dogs at our shelter that are often overlooked by potential adopters.  In addition, "Studies have actually proven that pet companionship can improve senior citizens' health and outlook on life. By offering companionship and love to an often lonely individual, pets can actually help to lower a person's blood pressure and stress level and reduce the number or duration of illnesses.  Pets allow the senior to feel happier, safer, and more needed."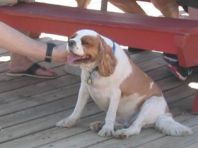 Through this program, SAVE will waive adoption fees for senior citizens (65 years and older) who are willing to welcome one of SAVE's mature (5 years and older) cats or dogs into their heart and home.
The Montclair, NJ Patch featured a story in early November about the Montclair Animal Shelter adopt-a-senior-pet program.  "Some of the sweetest, most-loving animals we have living at the shelter are senior animals, and they arrive here through no fault of their own," shelter coordinator Melissa Neiss said. "Often they end up here because something has befallen their owner."   The shelter was charging half-price to adopt older animals during the month of November.
Across the country, the Humane Society of Boulder Valley is offering fee-waived adoptions for all pets eight years of age or older through November 30th.
I decided to search WebMD to see what they have to say about how pets improve human health.  I was pleasantly surprised to find a slide show, and here are a few highlights:
Pets keep blood pressure in check.
Pets are great exercise buddies.
Want stronger bones?  Walk the Dog!
Dogs can be trained to help seizure victims.
Animal-assisted therapies for senior citizens.
View the complete slide show and health-benefit descriptions by clicking here:
That was enough evidence for me to continue celebrating our senior pets every month of the year.  How about you?
Susan, Taurus and Gemini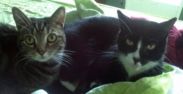 ---
---