Is This Cat Feral?
---
ASPCA Research: Is This Cat Feral?
I like to walk for exercise and to get some sun. So I walk around my neighborhood a few times a week. I would say nine times out of ten while I am walking I see a cat outdoors. Sometimes the cat is sitting on a porch or lawn that I assume is his owner's property, and sometimes the cat is in a field or bushes and jumps away as I approach. Then I think, "Is this cat Feral?"
Growing up in rural Pennsylvania coal mining country where there are lots of farms, woods, and no sidewalks, house cats were often left outdoors to roam.  So today, I have little fear in approaching a cat I see outdoors to talk to it, invite it to my hand to be petted, and in the process try to determine if it is feral or simply a house cat out and about for whatever reason.
The sad story is that house cats and feral cats are in danger when left to roam outside; in danger of inhumane treatment by animal-unfriendly humans, in danger of contracting disease if their immune system is weak, and in danger of being hit by a car.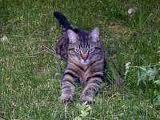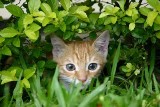 Roaming cats are often scooped up by Animal Control and euthanized immediately if assumed feral.  Other cats are dumped at shelters by owners who no longer can care for them, and left to the bewilderment of the shelter management to determine if the cat is a trapped feral or if the cat is a house cat with social skills and is just so frightened that it can no longer relax amongst the humans trying to help it.
The ASPCA decided to conduct a research project "designed to determine whether we can develop a reliable and humane tool for identifying truly unsocialized cats shortly after they arrive at the shelter. Such a tool would enable cat caregivers in shelters to more accurately distinguish between:
truly unsocialized cats who would benefit from Trap-Neuter-Return (TNR) services, and
socialized but terrified cats whose owner may be searching for them, or who are likely to be candidates for adoption if given time to show their true qualities"
One of the shelters they worked with was Tabby's Place in Ringoes, New Jersey.  This is a wonderful cat santuary that I had the opportunity to visit and tour recently during their "Catoberfest" celebration.
What follows is a direct publication of the ASPCA research article.  It can be found on their website noted at the bottom of this dissertation, in case you want to browse the website and learn more.
As published online by ASPCA Professional:
What's Happening?
Phase 1: We surveyed the field to find out how shelter staff currently assess the socialization status of incoming cats. We found that a wide variety of assessment methods are in use. Only 15% of 555 respondents have standardized, written guidelines. This survey reinforced the need for a validated method for assessing cats' socialization status shortly after shelter intake.
Phase 2: At the Humane Alliance Spay/Neuter Clinic in Asheville, NC, we created a simulated shelter environment in which to study cats before their spay/neuter surgeries. We conducted a wide variety of assessments on nearly 300 cats. These cats included:
free-roaming, unowned cats being cared for by a caregiver,
unowned cats currently living in foster homes, and
owned cats living with people in a home environment
Owners, foster families, and caregivers completed a questionnaire about the cats' behavior toward people in their normal environment. Then all the cats entered the clinic in humane box traps, were vaccinated, and moved into standard holding cages as they would be in a shelter environment.
The cats were assessed and observed at set times for three days using 47 behavioral measures and 16 physical/environmental measures. The person assessing all the cats knew nothing about the cats' normal behavior outside the "shelter."
Update, September 2011
We have expanded the study to include hundreds more cats in the care of other agencies.
We have begun to narrow down the list of measures that hold the most promise as valid indicators of socialization status.
We are carefully validating the questionnaire completed by owners, foster families, and caregivers that reports the cats' true behavior with people.
Who's Involved?
In addition to Humane Alliance, we have worked on this project with Tabby's Place, A Cat Sanctuary, in Ringoes, NJ. We are currently finalizing our other study partners.
Results
The results from Phases 1 and 2 seem to reveal some subtle behavioral differences between the cats whose owners or caregivers described them as very unsocialized with people and those described as moderately to well socialized. The research also suggests that some clues shelters commonly use do not appear to accurately identify truly unsocialized cats. Confirmation research is currently underway since cats' lives depend on these results.
What's the Bottom Line?
Most cats entering our shelter system do not leave alive. In many cases, frightened but socialized cats who appear feral are euthanized before they have a chance to de-stress and show their true colors. In other cases, truly unsocialized cats suffer stressful days or weeks in shelter cages never meeting the hope that they will settle down.
Our long-term goal is to create a user-friendly assessment tool that will enable shelter staff to identify truly unsocialized cats in order to channel them into TNR programs. This research has tremendous potential to save lives by providing shelter staff with a reliable tool to determine whether the cat huddling in the back of the cage is truly feral or socialized but currently frightened.
Thanks for reading, and your comments are welcome.
Please visit the ASPCA Professional website to see the complete article above and to learn more.
Susan, Taurus and Gemini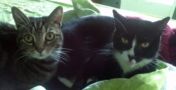 ---
Comments:
Posted by
mburt
on
Nov 14th, 2011
Nice article. I know if 1 of my cats got out she would not be social at all. They would think she is feral especially by the way she acts when I take her to the vet. She would be considered an unsocialized cat but she really is very lovable and cuddly, but only with HER family.
Posted by
mburt
on
Nov 14th, 2011
Nice Article. One of my cats would definitely be considered unsocialized if she ever got out and was picked up. But she is really very loveable, just with her own family.
Posted by
Anis
on
Dec 31st, 2014
Like others have said to truly hylinlpergeaoc cat does not exist but if you are looking to overcome a mild allergy and own a cat i would suggest getting a short hair cat. My husband had a cat allergy but after constant contact with my cats(and a lot of benadryl the first 2 weeks) he started to become immune to them. Now after 5 years he has no problem with cats unless he gets fur in his eyes. It may or may not work for you so please make sure you have a home for any cat you buy just in case.
Posted by
Dollie
on
Jan 1st, 2015
Thniinkg like that is really amazing
Posted by
Fabian
on
Jan 10th, 2015
This is a touchy sebujct. Your pet cannot communicate to you to tell you what is happening. You should have your cat checked out by someone else to get a second opinion. Keep a close eye on her. Plus you can contact your local ASPCA to see if they have more information regarding this vet or what to do.
Posted by
JosephLig
on
Jan 12th, 2022
Vulkan Vegas looks like a professional casino with a lot to offer. At first glance, the platform seems quite simple; however, they genuinely go out of their way to produce some really cool
Vulkan Vegas brings you a different take on the betting platforms you've become so accustomed to. This platform is fresh and exciting. What adds to the appeal is the riveting bonus
vulkan vegasa casino mobil
From this Vulkan Vegas casino review, it's evident that it has a lot to offer. Ranging from the vast assortment of games with new ones constantly being added to the fantastic
Leave a Reply