National Pet Month contest sponsored by Bil-Jac
---
There's still time to enter a photo / video contest in honor of National Pet Month sponsored by Bil-Jac. The company is a family-owned and operated, leading manufacturer of Super Premium Dog Foods and treats.
Consumers can participate in the contest on social media by submitting their favorite photo or short video of their pet dog that matches the theme each week in May. Bil-Jac is encouraging dog lovers nationwide to get snapping with their best friend via this unique contest.
Individuals can enter by posting their theme-matching photo or short video on the Bil-Jac Facebook, Twitter and Instagram accounts by using #BilJacPetMonth. Each week a new winner will be chosen to receive a prize pack of Bil-Jac Dog Food, Treats and dog goodies valued at $100.

Themes for each contest week are as follows:
May 19 (Week 3) - Best Dressed Dog Photo
May 26 Week 4) - Best Dog with a Bil-Jac Food or Treat Package Photo.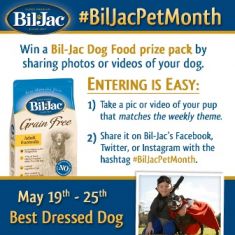 ---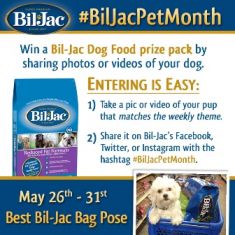 Consumers can find complete details on Bil-Jac's Facebook page

"We are excited to launch our National Pet Month Contest to celebrate dogs and all the many ways we enjoy their company, even if they are just taking a nap, amazing us with what they will do for a Bil-Jac treat, or putting on their best look," said Kim Gaebelein, Senior Marketing Director for Bil‑Jac Foods. "We love being a part of the lives of so many dogs and their families. Many of us at Bil-Jac have dogs in our families and we can relate to all the wonderful and crazy things that go along with being a dog owner. This contest is a way for us to celebrate dogs of all sizes and types and allow those best friends to truly strut their stuff in front of the camera and all of social media."
Bil-Jac is dedicated to providing the highest quality and freshest ingredients available in pet food. They offer a full line of Super Premium Dog Foods and treats. Learn more about Bil-Jac on their website.
Good luck!
Susan, Taurus and Gemni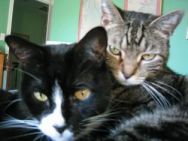 ---