Llama Love at the Hunterdon County 4-H and Agricultural Fair
I always have the best time attending 4-H Fairs. The variety of animals just fascinates me, especially when I meet those that I simply don't see every day, such as the livestock. This year I was fortunate enough to meet a few Llamas up close and personal while learning about them from one of the 4-H leaders in the Llama tent.
First of all, some Llama fast facts. Llamas are:
Native to the Andes
Highly intelligent
Cooperative and calm
Quick to train properly
Social and it's best to own at least two
I was told they are very responsive to people's energy, and if approached by a calm, kind person they respond likewise.  In fact, they make wonderful therapy animals for those needing some extra comfort and support.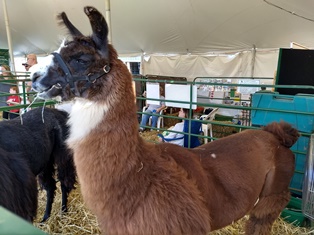 A Llama's wool is extremely soft and warm if used for yarn and clothing.  But did you know they are also trusted guard animals?  Llamas are good at guarding alpaca, sheep and goats. They have excellent eyesight and peripheral vision!  
The average lifespan of a Llama is 18-20 years, so they rival a cat or dog in that respect.  Llamas are one of the oldest domesticated animals in the world! They were helpful in transporting goods for over 5,000 years in the Andes. Want to go on a hike? Take your Llama companion with you. They make perfect hiking partners!
This is a just a few of the many things I've learned about these amazing animals. They are definitely livestock with a lot of class!  We hope you found some inspiration reading about Llamas as I did when meeting them!
Susan, Taurus and Gemini
---