Look What's New at the 2018 Super Pet Expo in Edison
Once again, I'm excited to share the news about all the attractions scheduled during the Super Pet Expo this year. The 18th annual event will take place April 13-15, 2018, at the New Jersey Convention & Exposition Center in Edison.
One-Stop Shopping Experience:
The event offers a trade show floor where 200 exhibitors will showcase products and services ranging from pet care, health, and food products to grooming and daycare services, to name a few!  Animal rescue groups will once again be featured, showcasing pets looking for their new forever homes, so be prepared to fall in love with your new best friend!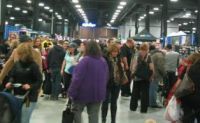 Educational Events and Demonstrations:
The educational events have always been a favorite of mine. Below are some highlights, new and returning.
New this year:
Pig Agility demonstrations by Pig Placement Network. Did you know pigs rank number 4 on the animal intelligence list?
Repticon will feature reptiles such as snakes and lizards from Africa, Australia and the Americas as well as reptile supplies and themed products.
The International Cat Association's (TICA) Cat Show will offer cat agility demonstrations and more in a kitty-exclusive area.

Returning favorites:
The Best Dressed Pet Competition hosted by "The Pet Lady" Dana Humphrey with pet fashion designer judges gives visitors a chance to outfit their pet in sassy, cute or crazy costumes.
Wolf Visions will offer an educational program, dispelling myths and addressing the wolf's vital role in keeping a balanced ecosystem.
Rizzo's Reptile Discovery will show visitors the magic and excitement of reptiles. 
The Ultimate Air Dog competition is where four legged athletes soar through the air into a 30,000 gallon pool.
Luring 101 for dogs that love to chase! Dogs take center stage in an enclosed 250-foot luring course especially for them.
An off-leash puppy playground that's safe for canine exercise and socialization.
Get your tickets and bring the kids!
The Super Pet Expo offers a huge variety of activities and experience suitable for the whole family. Animal lovers, both young and old, will find this event enjoyable. Even your own pets are welcome at the event (leashed pets admitted free, but no retractable leashes permitted).
Visit the Super Pet Expo Website to find show hours, directions, purchase tickets, and learn more! 
Hope to see you there!
Susan, Taurus and Gemini
---