Third annual South Jersey Pet Wellness Symposium announced
After two successful events, Lori Genstein, owner of I've Got the 'Scoop', LLC pet sitting and symposium organizer, is not stopping there. She has recently announced the third annual South Jersey Pet Wellness Symposium will take place Saturday, April 16, 2016, at the Palmyra Community Center. The event is staged not only as an educational event for the public, but as a fundraising event to benefit the Boo Tiki Fund.
The Boo Tiki Fund is a non-profit 501(c)(3) charity organized with the purpose of keeping animals in their forever homes by assisting pets in need of veterinary care when their families are experiencing a financial hardship and have nowhere else to turn. The founders of the fund will be on hand to meet and greet during the event. Pets who benefited from the fund will be showcased in a slideshow for attendees to view.
"South Jersey's Pet Wellness Symposium grows bigger and better each year, and I'm proud to share that the donation raised had doubled from Symposium 2014 to Symposium 2015," said Genstein. "This wonderful annual community-wide event is made possible because of the dedication by some of the finest veterinarians at HousePaws Mobile Veterinary Service, Pet PT and NorthStar VETS, all volunteering their time and medical expertise to provide an empowering day of outreach for pet parents, professionals, students, animal welfare heroes and all animal lovers."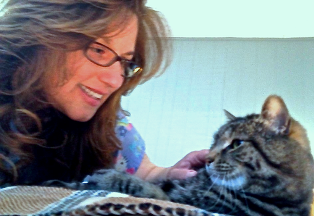 Lori Genstein, organizer of the South Jersey Pet Wellness Symposium, with Henry. Photo used with permission from I've Got the 'Scoop', LLC
Genstein says the event is meant to enlighten attendees about animal wellness, integrative care, natural alternatives, and holistic treatments. She also says that many caring, compassionate and progressive pet parents are seeking innovative and less-invasive therapies for their beloved pets, so this event is for them.
In 2015, the symposium included a children's program, and the Cinnaminson Cub Scouts joined the event. They participated in a fun and rewarding community service project making environmentally-safe toys for homeless animals. There were hands-on, interactive educational classes including Bite Prevention, as well as Animal CPR and the Heimlich Maneuver where children practiced new skills with live dogs. Kids also had an opportunity to snuggle up and read to the Furry Angels Therapy dogs.
"It's important our children are involved," said Genstein. "At the event we are teaching children respect and love for animals as well as animal safety in a fun and positive experience."
Mark your calendars!
Susan, Taurus and Gemini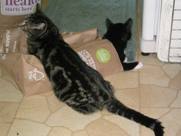 ---
As published on Examiner.com

---
---