Pet Sitter Promotes Animal Rescue for Love Your Pet Day
February is traditionally the month we associate with Love, and for many that Love extends to our pets. Lorraine Zdeb, founder of Love Your Pet LLC, a premier pet sitting service based in Somerset County, New Jersey, hopes to inspire and motivate pet owners everywhere for a special February holiday meant to celebrate our pets, Love Your Pet Day on February 20th.
Zdeb grew up with lots of animals, mainly dogs. Her father loved animals and brought home their first rescue when she was only four-years- old. He was also a producer in the entertainment business, giving Zdeb the opportunity to host a weekly program called "Love me Tender" airing on Cablevision featuring rescue groups, dog training techniques, and personalities in the pet industry. The purpose of the show was to educate the public about proper animal care and husbandry.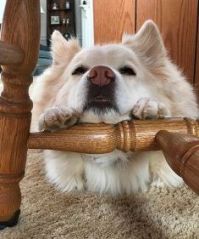 From there, Zdeb's career took many paths through the pet industry, from working as public relations consultant for a local humane society to finally starting her own pet sitting business in September 1989. At that time, the nonprofit National Association of Professional Pet Sitters (NAPPS) was still in its infancy, and Zdeb joined in order to network with others in the business and learn.
While growing her business to the highest level of standards, she also grew personally through the ranks of NAPPS from member, to public relations chair, conference chair, district manager, vice president, president and currently as are all past Presidents, an advisor.   Education to pet owners is still her top priority, and animal rescue and welfare remains central to her heart.
Zdeb has been promoting animal adoption for years through her Somerset County 4-H Fair exhibit activity where folks were encouraged to show her and her team members their pet photos displayed on their phone in exchange for "adopting" a stuffed animal from the Love Your Pet LLC booth. This also gave one-on-one time to discuss animal rescue and welfare with the community at large.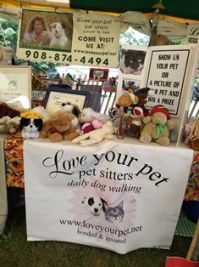 During this unprecedented Covid-19 pandemic, Zdeb believes now is a good time to foster or adopt an animal in need to help reduce the strain on shelters. Some families have been hit hard by the virus, making pet care difficult, while others find solace and comfort in caring for an animal friend while working at home, social distancing and/or under quarantine.  
Taking a pet into your home under foster care can be a lifesaver for pets who do not adapt well to shelter life. Zdeb has set an example by fostering pets in her own home. Following is the story of Angel and her pups:
About a year and a half ago Zdeb got a call from Husky House and asked if she would be able to foster a mom and her five male pups. The pups were husky golden retriever mixes as was Angel. They came from down South and were flown to New Jersey. This would be the third litter Zdeb fostered for Husky House.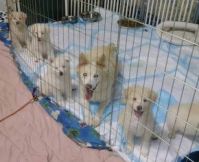 When Zdeb heard that Angel was heartworm positive, she knew she would be with her for a while, as are a lot of dogs that come from the South. No one else at the rescue had room to foster, so Zdeb volunteered. It was quite a job taking care of five growing fur boys and their mom, so she enlisted the help of her pet sitters, and they all chipped in. As we started finding homes for all the pups, Zdeb was thrilled that one of the pups, Hunter, was adopted by one of her clients in Hillsborough, NJ - a wonderful home and where Zdeb  had a chance to see him grow up. Zdeb had named them all after angels, and some of the people who adopted them kept their names.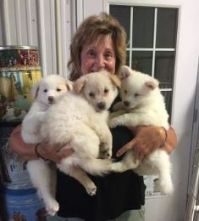 Sadly, one of the pups named Raphael that had been adopted had a short life. The new owner left the pup alone in the back yard at only 16 weeks old; he crawled under the fence to go play with another neighbor's dog, which ended badly. Zdeb got a call from Husky House with the news that Raphael had been killed by the other dog.
"We were both crying," said Zdeb. "I felt like I lost a piece of my heart. When I heard the person who adopted him did not want his ashes, there was an effort to get his ashes back to me. The amazing thing is, once I placed him in the room where he had stayed with his mom and other sibling where he was loved and raised, a paw print appeared on his box that held his ashes. I can't explain it, but I know he is with me. Angel was the last pup that got adopted, and they now call her Annie. She is spoiled rotten, as all dogs should be."
This uncertain and stressful pandemic time is an opportunity to unify behind a common love of animals for Love Your Pet Day. Zdeb urges you to reach out to your local animal shelter or rescue group and ask how you can help. Even if you can't open your home to an animal, perhaps you can offer much needed supplies in the form of bedding, cleaning, and toys. Every effort helps, no matter how small the gesture. And don't forget to give your current pet(s) extra hugs and treats on Love Your Pet Day!
About Love Your Pet, LLC
Love Your Pet LLC offers a team of nine pet sitters serving Somerset County, New Jersey. All the pet sitters employed by Love Your Pet have some animal husbandry background and come from a place of compassion. They are carefully screened and have the ability to care for small animals, such as dogs, cats and pocket pets, as well as the care of all large animals, exotic pets, medication-dependent and special needs pets.
"Our job when we sign that contract with a pet owner is to take that pet under our care, custody and control," said Zdeb. "That animal's life is in our hands, and we will do whatever it takes to honor that commitment to the pet and the pet owner under any circumstance."
Zdeb has a strong client base and is highly regarded for her team's professionalism and caring. Love Your Pet LLC is a proud member of the National Association of Professional Pet Sitters (NAPPS) and Pet Sitters International (PSI). Bonded, Insured and Vet-Recommended.
Visit Love Your Pet LLC online to learn more and request service
Hope this helps inspire you all for Love Your Pet Day!
Susan, Taurus and Gemini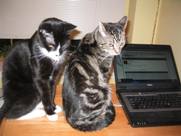 Recommended Reading:
Pet Sitting Service Teaches Concept of Pet Adoption at 4-H Fair