Miniature horse awarded certification in pet therapy
Most folks probably think of dogs as therapy pets when the subject comes up. However Duncan, a miniature horse, has passed his test and is now officially a therapy pet, too. He made an appearance at the Family Pet Show in New Jersey.
"Duncan is a full grown, three year old mini horse," said Chris, Duncan's escort during the Family Pet Show. "His owner volunteers for the Mid-Atlantic Great Dane Rescue League. He took Duncan along to the Super Pet Expo earlier this year. There he was approached by someone at Creature Comfort Pet Therapy with the idea to train Duncan as a therapy animal."
Duncan now makes the rounds at schools for special needs individuals and nursing homes. The idea behind pet therapy is that humans and animals have always shared a powerful bond. Folks suffering from physical or emotional pain find animals to be a source of relief and contentment. A pet can sooth an injured soul and provide much needed company to a lonely and depressed person, if only for a short period of time during the therapy pet's visit.
Duncan certainly drew attention at the Family Pet Show with visitors anxious to pet him and learn more about him. One point of conversation centered around his interesting shoes.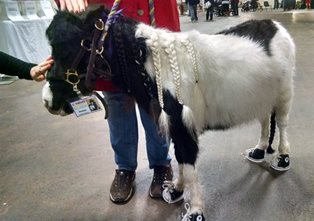 "The shoes Duncan is wearing are from the Build-A-Bear store in the local mall," said Chris. "The shoes just happened to fit Duncan. Because the tile floor here is slippery, these shoes protect Duncan with their little rubber bottoms so he does not slip."
Chris further explained she was considering pet therapy training with a mini horse of her very own. She was learning through this experience with Duncan at the Family Pet Show.
Miniature horses can also be trained as guide pets for the blind. The Guide Horse Foundation offers certification after establishing that the particular mini horse is sound and healthy through veterinary examination. The horses are tested for their intelligence and undergo periodic physicals to ensure their continued health.
So glad to have met Duncan!
Susan, Taurus and Gemini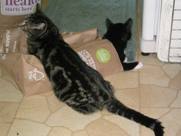 ---
First published on Examiner.com - National General Pets

---
Save
Save
---