Home
Gemini's Blog
Celebrate National Pet Day with a $5 coupon from Wellness Natural Pet Food
Celebrate National Pet Day with a $5 coupon from Wellness Natural Pet Food
Make smart choices with your pet's food…
National Pet Day is April 11, and I would like to share with you a pet food coupon and a few adorable videos that remind us of how important it is to raise pets responsibly with smart food. Take a look at what Wellness Natural Pet Food has to offer.
Pets count on us to make healthy choices for them every day, and choosing the right pet food is a very important choice. Below is some background on Wellness Natural Pet Food.  They have formulated recipes that are considered wholesome and made with natural ingredients with a boost of super nutrients (antioxidants, omega fatty acids, pre-biotics and pro-biotics) for a longer and healthier life expectancy for our pets.  
In addition, Wellness is offering a $5 coupon that can used on your next pet food shopping visit. Please note, this promotional coupon expires on April 23rd, 2013.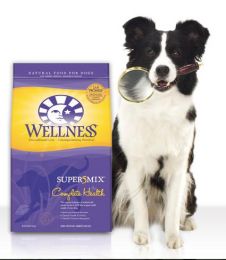 Credit: Wellness Natural Pet Food
"At Wellness®, we believe that a thoughtful approach to nutrition is the foundation of wellbeing. We use delicious, real-foods like deboned meats, free of added hormones and steroids, wholesome grains and fresh fruits and vegetables to provide the perfect balance of protein, energy, vitamins, minerals, and antioxidants in the healthiest way possible. Every ingredient in our Wellness natural food recipes is carefully chosen for its nutritional benefits providing just what your faithful friend needs for a happier, healthier, longer life. That's why all Wellness dog food formulas are free from meat by-products, animal fats, potential allergens like corn, soy and wheat as well as artificial colors, flavorings or preservatives. We've made it our mission for almost a decade to offer natural, healthful, great-tasting alternatives in pet nutrition. Over the years, we have helped thousands of pets and people discover the difference choosing Wellness can make. And that's something we're proud of because we're not just nutritionists- we are pet owners and pet lovers too."
As a bonus, watch these cute videos and make sure your pets don't look like Stuffy full of artificial preservatives.  Instead, Check Your Bag!
---
---
Have a great day and enjoy your coupon savings!
Susan, Taurus and Gemini

---