Feline Agility staged at the Garden State Cat Show
The Garden State Cat Show/Expo took place July 21-22, 2018, at the New Jersey Convention and Exhibition Center in Edison, New Jersey. The event was hosted by the Garden State Cat Club. One of the features of the annual event was the Feline Agility contest, and what fun that was to watch!
I've been attending this show for many years, and I was told by the show manager several years ago that feline agility competitions are now being offered at cat shows around the world. The agility competition is a special treat for the Garden State Cat Show visitors and kitty competitors.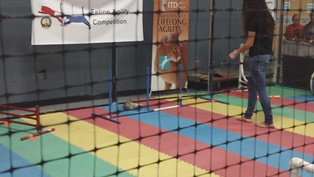 The agility contest is open to all cats, regardless of breed or rescue status. The cats are prompted to run the course, but how the cats manage the course is up to the individual cat. 
At this event, some cats quickly ran through the tunnels and jumped through the hoops. Others had to think about it and be coaxed to make their way around the course. Because each cat participating approached the course in their own manner, course completion times varied from cat to cat.
The Garden State Cat Club is the third oldest cat club affiliated with the Cat Fancier's Association (CFA).  The club is a registered 501(c)(3) not-for-profit organization dedicated to the welfare of all cats. The club contributes to animal welfare and feline health organizations as funds permit. The club also monitors legislative issues that may impact pet ownership and the breeding of pedigreed cats. Your donation is tax-deductible as defined by IRS.
You can watch Cat Agility in action at the Garden State Cat Show below!  
Don't miss a Gemini Universal LLC video update!  Subscribe here!
Thanks for reading and watching!  Stay tuned, and have a great day!
Susan, Taurus and Gemini
---