Getting Ready for Puppy Bowl VIII
---
Puppy Bowl VIII airs today on Animal Planet
This is a very special day. While all the human sports fans out there are getting ready for Super Bowl Sunday, I am joining all my pet enthusiast friends to watch Puppy Bowl VIII on Animal Planet.
There are some really interesting facts surrounding this special game. 
Did you know that all the puppy players are recruited from rescue groups across the country and up for adoption?  Most have now been adopted by the time the game airs today at 3 p.m. EST.  They range in age between 9 and 17 ½ weeks old.
Did you know that this year Puppy Bowl VIII features a Piggy Pep Squad? Can't wait to see this one!
And while the regular Super Bowl features Madonna this year, Puppy Bowl VIII features a Kitty half-time show.  I will try to get Gemini and Taurus to watch.
Puppy Bowl VIII is a game not to be missed.  Here is a link for more behind-the-scenes facts about the game.  You'll even find out what the biggest obstacle is that the game faces.  No hints…
10 Things You Want To Know About "Puppy Bowl VIII"
Susan, Taurus and Gemini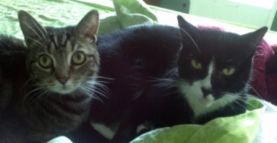 ---
---
---