The Cadbury Bunny Tryouts Announced
Now through February 21, the Cadbury brand is calling on pet owners across the country to enter their pet(s) for the chance to be in the newest Cadbury Clucking Bunny commercial. This Easter season, the winner will grace screens across America, receive a $5,000 cash prize, and bragging rights for life. But first you have to enter, so continue reading to learn how!
Grab those bunny ears, snap a photo and enter the contest to make sure your pet has a chance to be named the next Cadbury Bunny. This is your pet's chance to win a spot on the big screen and become a member of a one-of-a-kind bunny-eared club and join past winners Henri the English Bulldog (2019), Lieutenant Dan (2020) and Betty the Frog (2021).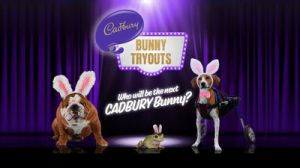 For the first time in Bunny Tryouts history, these former "bunnies" are returning to the competition to form the first-ever Cadbury Bunny Tryouts Judges Panel to select this year's finalists.
Judge's tips for entering:
Henri the English Bulldog (2019) – The "OB" (original bunny) is back and advises all pet owners to capture the personality of their pet in their entry with fun faces.
Lieutenant Dan (2020) – Mr. Perseverance is back with that loveable smile and his tip is to be sure to tell us why your pet is special.
Betty the Frog (2021) – Betty is bringing girl-power to the judges panel and her tip is to let your uniqueness shine through in your entry photo.
Do you want to help pick this year's Cadbury Bunny? Join the all-star judges and vote! Voting opens on March 8 and runs through March 22. The new Cadbury Bunny will be announced on March 29, 2022 and featured in the iconic Cadbury Clucking Bunny commercial in the spring of 2022.
Source: Cadbury Press Release
---
---