So This Is Christmas
---
...and what have we done?
Another year over, and a new one just around the corner.  Yes, John Lennon's "So This is Christmas" is one of my favorite songs at this time of year.  And what have we done?  Well, a lot.
After spending several months writing exclusively for Examiner.com under the topic New Jersey Animal Rescue, I expanded my endeavors to include National Pet Health, National General Pets, and National Cats. 
I invite everyone to write to me at info@GeminiUniversal.com with story ideas and suggestions.  So much good can be accomplished by helping others stay informed of important events and topics of interest.
The kitties turned seven this year in April. This means they have become "seniors" in cat years.  They've had their wellness exams, and so far, so good.
I continued my volunteer activities for SAVE, A Friend to Homeless Animals this year, and I made the rounds where I could at the local pet events and expos.  You can find stories, photos and slideshows in my New Jersey Animal Rescue column and blog.
We weathered Hurricane Sandy and helped spread the word about animal rescue efforts in her aftermath. 
And here we are.  Another year over, and a new one just around the corner.
"And so this is Christmas, I hope you have fun, the near and the dear one, the old and the young."
Merry Christmas,
Susan, Taurus and Gemini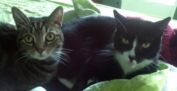 ---
You must install Adobe Flash to view this content.
---
---