An introduction to Natural Horsemanship
---
The natural approach to horse training…
My journey through the animal rescue world has given me the opportunity to learn more about horses and horse rescue. I have also learned something about proper horse training and the method called "Natural Horsemanship." What follows is an introduction to this method for those of you who are not familiar.
 "Natural horsemanship is a philosophy whereby I work with the horse's nature first and foremost," said Ben Pollak, owner of Ranch Consulting LLC.  "I approach the horse based on an understanding of how horses in general think and communicate.  The training style encourages the horse to accept humans and work confidently and responsively with them rather than reacting to them out of fear and mistrust."
In the accompanying video, Ben is using body cues to train the horse.  He explains how he is using "freedom" rather than physical manipulation and pain as he helps the horse learn and respond to cues.
As noted by the Parelli Program, the natural approach to horse training is effective with all horse breeds, all disciplines and all styles of riding including Western, dressage, jumping, cross country, drag hunting, polo, racing, or simply happy hacking. It's beenembraced worldwide by horsemen and women of all disciplines and skill levels, from first-time beginners to international competitors and Olympic medalists.
Stay tuned for more about this fascinating method of horse training.
Susan, Taurus and Gemini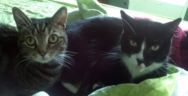 ---
---