Panelists for By The Book: Animal Writers' Workshop Announced
Pre-Registration date extended
The panelists for By The Book: Animal Writers' Workshop have been announced. The workshop is scheduled for Saturday, April 28, 2018 at the Oldwick Manor, Oldwick, New Jersey. The workshop will highlight the various avenues for breaking into the animal writing field, including adult and children's literature, fiction and nonfiction. Both aspiring authors and seasoned writers are invited to attend. Panelists will offer a variety of experience in the animal book publishing field.
Panelists include:
Linda Bozzo - Educational book author, Piscataway, NJ - Bozzo is an award-winning author of more than 60 nonfiction, educational books for children. She is also a long-time member of the Society for Children's Book Writers and Illustrators. In between writing projects, Bozzo enjoys giving presentations at schools and libraries.
Deborah Stevenson - Picture book author, Sparta, NJ - Stevenson's lifelong love of animals and writing have frequently intersected, most recently in the form of an award-winning children's book, Soaring Soren: When French Bulldogs Fly. This inspirational, true story is about her French Bulldog, who defied the odds to become the first champion of his breed in the athletic sport of dog agility. When Stevenson is not writing or managing telecom products, she loves training and competing with her dogs, and teaching dog agility.
Jeane Balsam - Book designer, Milford, NJ - Balsam is a graphic designer, author, and illustrator. Her 30+ year career as a graphic designer includes clients ranging from the largest humane organization in the state to individuals who need a designer for their self-published books. Balsam has extensive experience as a contributor, editor, and/or publisher of several animal-oriented publications. Her illustrations have appeared for a combined 16 years in Just Terriers and Just Frenchies magazines, the latter of which inspired her small business featuring items for the French Bulldog exclusively. She also ran her own dog rescue for over a decade with great success.
Andi Andrews - Novelist, Tewksbury, NJ - Andrews recently had her fourth novel published. Ephemeral is a departure for Andrews as one of the two central characters is a horse. One part romance novel, one part literary fiction, one part love affair with horses, the story is old from the viewpoint of a quirky, old cow horse who not only invites you into his world, but also shares his sensible and soulful outlook on human hearts and the meaning of true horsemanship.
Loren Spiotta-DiMare - Nonfiction author, Tewksbury, NJ - A lifelong animal lover, Loren Spiotta-DiMare has been writing nonfiction books about her favorite subjects for 40 years. Over the course of her career, she's had 20 books published. Her titles include coffee table, reference, picture, and chapter books. Spiotta-DiMare's work has been recognized by the Dog Writers Association of America, Humane Society of the United States, Doris Day Animal Foundation, USA Book News and New Jersey Press Women. Find the list of her published works at Loren's Reading Room.
Donna Jean Paff - Cat book author, Bucks County, PA - Paff has resided in rural Buck County, Pennsylvania her entire life. Growing up surrounded by the healing energy of pets and nature gave Paff an appreciation of holistic remedies which later in life developed into her work as an energy therapist at an assisted living community.  It was there that the author met the main character of her first published book, A Visit from Miss Marvin, a cat with a personality and mitten paws like her favorite childhood pet and who was ironically mirroring Paff's work by giving her own form of therapy to the residents. The author cleverly wove true events together with her own imagination to create a heartwarming tale from the cat's perspective.  The story is illustrated by Paff's daughter Bella Viva and will appeal to cat lovers of all ages.
Workshop includes an Authors' Alley Book Signings area

Numerous local authors will participate in the Authors' Alley, talking with workshop attendees and offering book signings.
Workshop Schedule
8:30-9:30 a.m.                 
Registration, Light Breakfast, Authors' Alley Book Signings
9:30-11:30 a.m.             
Panel Discussion and Q&A Session with Publishing Experts
11:30 a.m.-1:30 p.m. (Update: Now Open to Public Free of Charge!)
Authors' Alley Book Signings
Pre-Registration date extended to April 25, 2018
The workshop is being organized by J. Pace Publications with a fee of $65.00 per person. Find directions and pre-register by April 25, 2018 online here or by mailing a check payable to J. Pace Publications, P.O. Box 301, Califon, NJ 07830.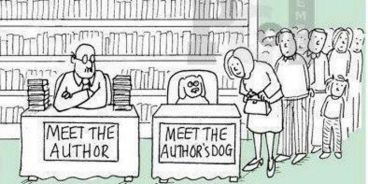 Please direct all questions to Author@LorensReadingRoom.com
Hope to see you there! 
Susan, Taurus and Gemini
---