Tiger finally given forever home for the holidays
---
From circus to zoo to sanctuary…
I love these Big Cat rescue stories with happy endings. This news just came across my desk, and I felt compelled to share. A San Diego based exotic animal sanctuary rescued a captive tiger from Greece, and he arrives in America today.
The sanctuary is appropriately called Lions, Tigers & Bears (LTB). Bobbi Brink, Founder and Director of LTB, had this to say in her press release by Veronica Cruz (media):
"This tiger has been living in deplorable conditions for years. We were his last hope, and finally he will get the care he needs."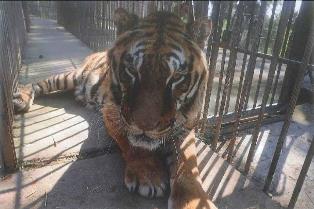 Photo: Phevos at the Trikala Zoo (PRNewsFoto/Lions, Tigers & Bears)
As the story goes, the tiger whose name is Phevos, was captive bred and seized from an Italian touring circus group in 2002, along with six other tigers. Phevos had been living alone in his enclosure at the Trikala Zoo, outside of Athens, Greece since March 2014 when his longtime tiger companion, Athena, died due to medical neglect. It was reported that Athena suffered from a wound on her paw that went untreated for six months, ultimately leading to her pre-mature death 15 months later.  Read the complete details on this LTB website page.
Can you help?
Lions, Tigers & Bears is a federally and state licensed non-profit 501(c)(3) rescue facility. LTB provides a safe haven to abused and abandoned exotic animals. The sanctuary also acts to educate the public about the exotic animal trade.
The sanctuary also reports in their press release that it costs a minimum of $10,000 per year to provide basic essentials of food and medical care to this one tiger alone. LTB is requesting donations in honor of Phevos to help provide lifetime care at the sanctuary.
LTB prides itself as a no kill, no breed and no sell facility that allows all animals in its care the opportunity to live out their lives with dignity in a caring and safe environment.
Lions, Tigers & Bears say on their website that the exotic animal trade is a 17 billion dollar a year industry. The Big Cats are often exploited for entertainment, the circus being one such example. When they have outlived their use, they are discarded and neglected. Then the exploiters buy another young cat and the same horrendous cycle continues.
For more information and to make a donation to help care for the Phevos and others like him, please visit the Lions Tigers & Bears website.

Susan, Taurus and Gemini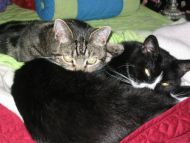 ---
---