Do you own a pin-up pet?
Calendars featuring pets are a big hit these days with pet owners, and I ran across two contests recently where participation can really make a difference in an animal's life. Whether you pay a small entry donation up front or buy the calendar outright, proceeds will benefit animal rescue and help fight animal cruelty.
Please help Stray Cat Alliance reach their $25,000 goal:  
Use the link below to look at these beautiful cats and read their compelling, humorous and touching rescue stories. Then enter your own - it's easy. The minimum entry donation is $5.
You can place all votes for your cat, spread them to others in the contest or, "bank" them for a time close to the end of the contest. Using the social networking tools provided, send requests to everyone you know asking them to vote for your special kitty. Also, you can set a fundraising goal for everyone to see letting them know you are committed to supporting the work of Stray Cat Alliance.

(Credit: Stray Cat Alliance / Paw Paw is looking for sponsors)
People can vote as many times as they like and can bank votes to use throughout the contest. Remember every vote helps pay for SCA's free resources providing spay/neuter to the public, veterinary support and foster care for cats in our Adoption program. Every cat is a winner and will be represented in the calendar. Visit the website for details.

Calendar Photo Contest by Pet Valu - calendar sales support groups fighting animal cruelty:
Pet Valu is asking for picture-perfect submissions to be featured in their 2014 pet calendar. Simply snap a picture of your pet in their most glamorous pose and email it to calendarcontest@petvalu.com.
Submissions will be reviewed by a panel of judges who will select the top 50 animals to be featured throughout the calendar.  Those 50 pictures will be posted to Pet Valu's Facebook page and friends will "like" their favorites to narrow down the top 13 pets. Of these 13 lucky pets, the grand prize winner will be featured on the cover and the other 12 will be displayed as each month's featured picture.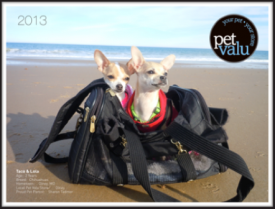 (Credit: Pet Valu / Taco and Lola were the 2013 Calendar winners)
Calendars will be on sale in your local Pet Valu stores for $5 and all proceeds go to support groups that help put a stop to animal cruelty. Fighting animal cruelty has never been this adorable!
Photo submissions will begin August 1 and run through August 31. You can vote by liking your favorites on Facebook from September 1 until September 15. The winners will be announced on September 16. Calendars will be on sale in stores October 15, just in time to make a purrrfect stocking stuffer during the holidays.
Good luck everyone!  Remember, every pet enjoying a loving, forever home is a winner, calendar pin-up or not.
Susan, Taurus and Gemini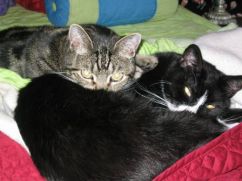 ---
Comments:
Posted by
Student Loans Online
on
Jun 3rd, 2021
Hello! I am looking for view around how to lessen my monthly payment. Currently, I contain nearby $75,000 in student responsible and I take advantage of CommonBond. I be aware that the larger the advance, the bigger the monthly payment, but it has been difficult to keep up with a $1,000 a month payment. Is there any par'nesis to arouse this payment lower? I procure already refinanced four years ago but there has to be something contrastive I can do. Any bit of communication will stop me off a bunch.
national student loans online services
Posted by
snachak
on
Dec 20th, 2022
buy cialis 5mg daily use Contra indications for flap procedures therefore include significant co morbidities
Leave a Reply