Children's book highlights child's special friendship with a cat
Looking for a children's book with an animal twist? Sweet Pomchu is an engaging children's story where the author, Cristina De Paula, introduces the reader to a young girl named Paula who goes to New York City and befriends a cat named Pomchu. This story unravels a tale of friendship and care.
As the story goes, Paula and Pomchu live at the same house and have fun together as they embark on their different adventures. It's an amusing book written in a positive way that helps teach children the value of education and eating good snacks.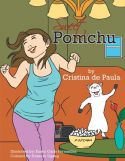 (Sweet Pomchu book cover)
The book was created from the vivid imagination of the author. As a child, Cristina De Paula was passionate about Disneyland, and she grew up loving children. She turned her passion toward writing a children's book, and Sweet Pomchu was the outcome.
The book was featured in the Bologna Children's Book Fair in Bologna, Italy, March 24-27, 2014.
Sweet Pomchu is available online and can be purchased at www.xlibris.com, www.amazon.com and www.barnesandnoble.com. ISBN 978-1-45685-816-2
Happy reading!
Susan, Taurus and Gemini
---
---