How to be a pet foster parent
---
A friend of mine fosters dogs, Huskies to be exact. He told me that one of the questions he is most frequently asked is, "How can you give a dog up after you've fostered it for several months?" His best answer was found in a poem that he felt explained it beautifully. He shared it with me, and now I want to share it with you.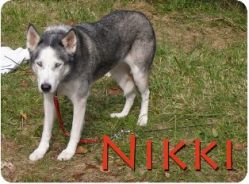 Credit: Tails of the Tundra Siberian Husky Rescue Inc.
A Foster Parent's Poem
There I sat, alone and afraid,
You got a call and came right to my aid.
You bundled me up with blankets and love.
And, when I needed it most, you gave me a hug.
I learned that the world as not all that scary and cold.
That sometimes there is someone to have and to hold.
You taught me what love is, you helped me to mend.
You loved me and healed me and became my first friend.
And just when I thought you'd done all you could do,
There came along not one new lesson, but two.
First you said, "Sweetheart, you're ready to go.
I've done all I can, and you've learned all I know"
Then you bundled me up with a blanket and a kiss.
Along came a new family, they even have kids!
They took me to their home, forever to stay.
At first I thought you sent me away.
Then that second lesson became perfectly clear.
No matter how far, you will always be near.
And so, Foster Mom, you know I've moved on.
I have a new home, with toys and a lawn.
But I'll never forget what I learned that first day.
You never really give your fosters away.
You gave me these thoughts to remember you by.
We may never meet again, and now I know why.
You'll remember I lived with you for a time.
I may not be yours, but you'll always be mine.
By: Author Unknown
Foster parents are so important to the pets they care for. Without them, many will still be alone in shelters facing needless euthanization or wandering the streets. We thank you for opening your homes and hearts to loving animals and giving them a second chance on life.
Susan, Taurus and Gemini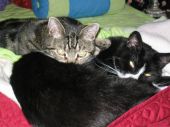 ---
---
---