Shelter animals at risk with NJ Assembly Bill 3825
New Jersey Assembly Bill 3825 withdrawn
On March 4, Alley Cat Allies, the national advocacy organization for cats, put out an alert that the New Jersey Assembly Agriculture and Natural Resources Committee was considering a bill that would put cats' lives (and all shelter animals for that matter) at risk.
"Assembly Bill 3825 could result in cats in New Jersey being killed at animal pounds and shelters before owners or caregivers even know they're missing. Alley Cat Allies has reached out to New Jersey Assembly Members to ask them to oppose this bill, and we need you to make your voice heard."
The current New Jersey law requires animal pounds and shelters to hold cats and dogs for at least seven days to allow owners to reclaim their pets. Alley Cat Allies got involved because they noted that Assembly Bill 3825 would allow shelters to kill animals based on their "medical, physical, or other condition, or aggressive or dangerous behavior" before the required seven-day holding period was up.
The issue with this proposed bill was this:
"Cats who are old or ill are still adoptable, and frightened cats can take several days to calm down after they are trapped. If this language becomes law, it puts all cats at risk."
Alley Cat Allies contends that all cats deserve a chance to live, and all caregivers and owners deserve a chance to save them. True euthanasia occurs only when an animal is fatally injured or untreatably ill, and our laws must reflect that.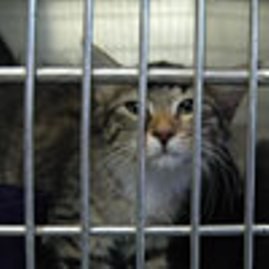 Credit: Alley Cat Allies
On March 7, Alley Cat Allies was happy to report that the sponsor has withdrawn New Jersey Assembly Bill 3825.
Alley Cat Allies promises to continue to monitor legislation in New Jersey and alert concerned pet owners and advocates if action is needed on other bills, good or bad, that affect the interests of cats.
They are the only national advocacy organization dedicated to the protection and humane treatment of cats. Alley Cat Allies was the first organization to introduce and advocate for humane methods of feral cat care, particularly Trap-Neuter-Return, in the American animal protection community. Read more about them at AlleyCat.org
On behalf of shelter animals in New Jersey, thanks Alley Cat Allies.
Susan, Taurus and Gemini

---
---