National Pet Dental Health Month
---
February is National Pet Dental Health Month
Pets need dental care just like humans. I know that for a fact, as I did have an unfortunate dental experience with my senior cat many years ago, and I do agree that looking after your pet's teeth is of utmost importance when establishing a pet wellness routine.
In honor of National Pet Dental Health Month, I thought I would research some different sources of information to help those of you who might need some guidance on where to begin.
First of all, National Pet Dental Health Month is sponsored by the American Veterinary Medical Association and several veterinary groups.  Visit the AVMA website to watch a video, listen to a podcast, read a press release, and even submit a photo of your pet's teeth.  Your pet could become a star on Facebook or the Flickr group.
You might want to check with your own veterinarian to see what dental services are offered. In my area, the Belle Mead Animal Hospital offers a page on their website dedicated to helping the pet owner learn more about dental disease before starting a treatment plan with their hospital. They boast a top-of-the-line dental suite with digital dental x-ray capabilities. Therefore, they are a good place to start if you live locally.
As noted on Belle Mead Animal Hospital's website, "Animals are silent sufferers. Most veterinarians and even observant owners won't know their cat or dog has pain in his mouth until we probe and x-ray under the gums. Remember, bad breath is not normal and can be treated. Periodontal disease is an infectious state that in people and animals contributes to chronic inflammatory states that affect general health and decreases life span."
There are also some products on the market geared to helping decrease the plaque buildup in your pet's mouth. One product I purchased through my veterinarian is called Perio-Support.This is a powder supplement that can be added to your dog or cat's food to help control plaque formation and support gum health in between dental check-ups.
Another product I am trying out is called PetzLife Oral Care Spray. The beauty of this product is that it is 100% natural and I can easily spray it on my cat's teeth. I can then use gauze to wipe the teeth afterward to help remove any loosened plaque.  Every little bit helps.
Nothing will take the place of regular dental check-ups with your veterinarian, and I hope this goes some way in getting you started if you have not already taken some action.
Susan, Taurus and Gemini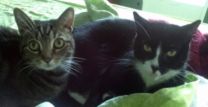 ---
---