South Jersey Pet Wellness Symposium a huge success
The third annual South Jersey Pet Wellness Symposium took place Saturday, April 16, 2016, at the Palmyra Community Center. The event was staged not only as an educational event for the public, but as a fundraising event to benefit the Boo Tiki Fund. Following are some highlights of the event.
Rebecca and Michael O'Donnell, the founders of the Boo Tiki Fujd, were present, and all money raised was donated to this nonprofit 501(c)(3) charity whose goal is to help animals receive crisis veterinary care when families cannot afford it. In addition, pet food donations were collected for The Wuff House, Inc., a nonprofit that runs a program called the PETS Mobile Food Pantry. Pet food is offered to pet owners in financial distress so they can continue to provide proper nutrition and supplies to their pets.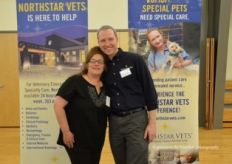 Lori Genstein, I've Got the Scoop, LLC and Phil Barnes, Marketing Director, NorthStar VETS
Cindy Pierson, the Turtle Lady of Watch Dogs of the Watersheds (WOW), appeared with Marshall, a 110-tortoise and his turtle friends. They shared information with children and adults about the positive impact snapping turtles have on the environment. WOW is a nonprofit community-based volunteer organization whose mission is to protect, preserve and restore the Delaware River, its tributaries and their watersheds.
The Palmyra Fire Department was invited to provide a Fire Prevention talk for children as part of the safety component of the Symposium's goal - educating the community about pet health, wellness, prevention and safety. Fire Marshall Tracy Kilmer and Fire Chief Richard Dreby attended with five hero fire fighters. They spoke about fire prevention, and the children learned about the equipment used by the fire fighters, received fire hats, and had an opportunity to try on the fire fighter's apparatus.
It is interesting to note that Palmyra houses the only Pet Evacuation Shelter in Burlington County, New Jersey, which would be activated in conjunction with a human shelter. Tracy Kilmer, deputy coordinator, and Rick Dreby, executive coordinator, also represented Palmyra/Riverton Office of Emergency Management. Kilmer had a display with information about the shelter which is a trailer that was donated by Sea Box and is now a custom-made Pet Evacuation Shelter. It can be relocated to another area in Burlington County if needed. The Tri-State K-9 Crisis Response Team was also part of the symposium program, and the children loved reading to their Caring K-9 Companions.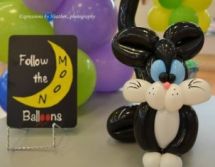 Dr. John Lewis and Dr. Joshua Portner of NorthStar VETS presented two lectures. Dr. Lisa Aumiller of HousePaws Mobile Veterinary Service presented two workshops geared for children included "Why does my pet go to the Vet?" and "Basic Care Pets Need."
Lori Genstein is organizer of the South Jersey Pet Wellness Symposium and owner of I've Got the 'Scoop', LLC pet sitting service. She is also a board member of the Boo Tiki Fund.
What a great event. Congratulations Lori!
Susan, Taurus and Gemini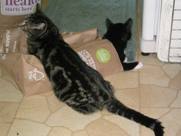 As published on Examiner.com

---
---