Felines meet fashion on the catwalk for a unique adoption event
Fashion Week in New York just got a little more interesting. Fashion icon, actress and cat lover, Katie Cassidy, partnered with Fresh Step to bring felines and fashion together on the catwalk to turn the cat lady stigma upside down at the Fresh Step Feline Fashion Lounge and Adoption Event. The runway show took place Saturday, Sept. 10, 2016.
Zani's Furry Friends, Little Shelter Animal Rescue and Adoption Center, and The Humane Society of New York, participating organizations with The Mayor's Alliance of NYC's Cats were on-site with adoptable cats.
Katie Cassidy had this to say in the recent press release about the event:
"From cat eye glasses and leopard prints to kitten heels and cat-faced flats, feline-inspired fashions have infiltrated runways for many years. Typically, cat owners aren't described by their style, but that's about to change with the launch of the Hot to Adopt campaign where felines and fashion are coming together to support cat adoption."
According to a recent Google Consumer Survey 2016, 39 percent of the respondents say that litter box odor is the worst thing about owning a cat. Fresh Step announced they are committed to eliminating all barriers to cat adoption and celebrating cat ownership.  Fresh Step's director of marketing, Nick Meyer, said their Hot to Adopt campaign aims to embrace and celebrate cats and cat people, therefore encouraging adoptions.
Stephanie Mattera also spoke out on behalf of the Mayor's Alliance for NYC's Animals:
"Cat bias is a real issue. Sadly, three out of four shelters pets are cats and they are adopted at lower rates than other companion animals. That's why Fresh Step's Hot to Adopt campaign is so important! We hope that people will see past the outdated cat lady stigma and open their hearts and homes to cats."
You can get involved and show your support by purchasing a T-shirt for $20. A portion of the purchase price ($7.50) will benefit shelter cats across the country. T-Shirts are vailable at freshstep.com.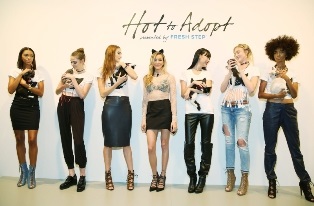 (Amy Sussman/AP Images for Fresh Step) (PRNewsFoto/Fresh Step)
What a great cause!

Susan, Taurus and Gemini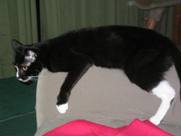 ---
---
---
---