March is National Adopt a Rescued Guinea Pig Month
Consider adopting a Guinea Pig of your very own
The first National Adopt a Rescued Guinea Pig Month was celebrated in March of 2002. It was designated by the American Society for the Prevention of Cruelty to Animals (ASPCA) as a way to raise awareness about guinea pigs waiting in shelters for their new forever homes. It is also a month to help people learn more about their proper care.
Guinea pigs make great pets for the right person or family.  However, there are still many who think of pets as "disposable," and once they tire of the pet or can no longer care for its needs, the pet winds up in a shelter.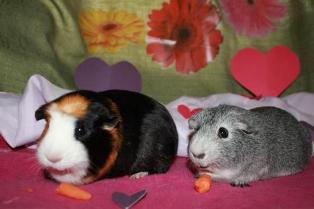 Credit: Petfinder.com / Steele & Gladys, Helping All Little Things
Before you run to your local shelter or humane society to adopt a Guinea pig, do some research. Guinea pigs require regular care. They need food, fresh water, a clean cage, proper grooming, exercise, and companionship daily.  They are social animals, and they need to interact with and become a part of your family.
When it comes to their cage, each Guinea pig should have a minimum space of about four square feet. If their cage has a wire mesh floor, you need to protect its feet by placing a grass mat, wood, or a tile on a portion of the floor. The mesh needs to be fine enough so that the Guinea pig will not catch his feet.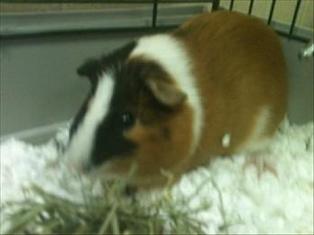 Credit: Petfinder.com / Poppy, St. Hubert's Animal Welfare Center
Glass aquariums are not recommended, as they do not allow for proper ventilation and ammonia fumes could build up.  Cages must be located away from direct sunlight, drafts and temperature extremes.
Don't forget about proper veterinary care that is needed. VeterinaryPartner.com is a good site to reference.
Credit: Petfinder.com / Xavier, Helping All Little Things
You might also consider taking some time to visit your local shelter or humane society who have Guinea pigs available for adoption.  Try volunteering at the shelter and get to know these delightful creatures and learn how to play and socialize with them.  Even if you never adopt one yourself, just telling others that there are guinea pigs available for adoption at shelters and rescues can help boost awareness.  Last year, Petfinder.com reported listing over 10,000 guinea pigs on their site.  That's a lot of Guinea pigs in need of homes.
Tell someone you know it's National Adopt a Guinea Pig Month. See where the conversation leads.
Susan, Taurus and Gemini
---
---