Home
Gemini's Blog
Seeking donors for Service Dog during March Brain Injury Awareness Month
Seeking donors for Service Dog during March Brain Injury Awareness Month
Gracie is a service dog in training at a facility called Wilderwood in Tennessee. She has been matched to Traumatic Brain Injury survivor Greg Costa, an accomplished drummer and budding writer who sustained major injuries to his spine and brain from a fall approximately 6 years ago. His recovery has been slow and painful, and he is now determined to advocate for other brain injury survivors. With Gracie by his side, Greg will gain in confidence and ability to pursue his dream of helping others suffering from traumatic brain injury, but donors are needed to help with the $15K cost of Gracie's 18-month long training.
The Brain Injury Association of America (BIAA) leads the nation in observing the month of March as Brain Injury Awareness month. The campaign theme through 2017 is "Not Alone" – a very appropriate theme for Gracie's cause. Service dogs help disabled individuals perform functions of daily living for which they are limited and are not considered "pets." In fact, the Americans with Disabilities Act (ADA) defines a service dog as any guide dog, signal dog, or other animal who is trained to provide assistance to an individual with a disability so they are never alone.
For those suffering from traumatic brain injuries, a service dog can be life-changing. A service dog's training is extensive and varied - dogs can be trained to pull wheelchairs and alert their owner to the sounds of the telephone, oven timers, alarm clocks, and smoke alarms. Therefore, individuals with mobility issues, seizures, and other physical/mental disabilities such as Greg Costa often qualify for a Service Dog companion. Service Dogs are protected under the American with Disabilities Act and therefore must be allowed access along with their human companions to public restaurants, libraries, supermarkets, churches, transportation systems, and more.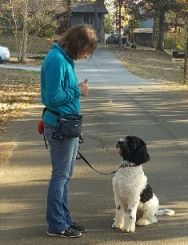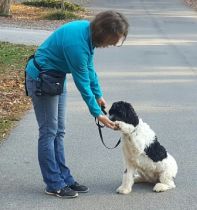 Gracie currently spends her nights at a wonderful foster family home and then spends her days training at Wilderwood with some of the best and most professional trainers for service dogs in the country. The founder of Wilderwood believes that what happens to a person's soul, and then their perception, in the presence of a beloved service animal is far reaching. Service dogs help individuals gain independence, both emotional and physical. Not only do service dogs provide unconditional love and support, they assist in all facets of life; behavioral, emotional and physical. And at the end of Gracie's 18-month training, she will be ready to assist Greg in all his daily activities.
Donate now to Gracie's Service Dog Training Cost:
During March Brain Injury Awareness Month, you can help further the campaign message of "Not Alone" by donating to Gracie's service dog training cost for Traumatic Brain Injury survivor Greg Costa by visiting https://www.gofundme.com/service-dog-for-tbi-survivor 
Over $5,000 has already been invested in Gracie, and she is currently protected with Trupanion Pet insurance in case of any unexpected emergencies - but the mission to unite Gracie with Greg Costa cannot be accomplished without Gracie being completely funded by June 30, 2017 – a $15K goal. The result of taking the stress of finances away will allow Greg to focus his time and energy on healing and service. A donation in any amount will be deeply appreciated. Thanks for caring!
About Wilderwood Service Dog Training:
Wilderwood is a nonprofit organization that specializes in training service dogs for people with neurological diseases. Though the range of illnesses involving the brain is expansive, there are a few key symptoms that cross nearly all neurological diseases. Wilderwood focuses their core training on these key symptoms. During the final three months of training, they will specialize the tasks for each dog to the client's specific needs. Visit www.wilderwood.org to learn more about Wilderwood's service dog training program.
---
---