It's Kitten Season!
---
With spring comes "kitten season." Kitten season is the time of year when cats give birth. Animal shelters and rescue groups soon become flooded with homeless litters of outdoor cats. Alley Cat Allies, the nation's largest advocacy organization dedicated to cats, has advice to offer people who want to help cats and kittens during this critical time.
As published in a recent press release by Alley Cat Allies:
"If you come across a kitten outdoors, you may be tempted to bring her home with you, but that may not be the best thing for the kitten," said Becky Robinson, president and founder of Alley Cat Allies. "Deciding whether to take a kitten home with you or leave her where she is should be carefully considered based on the individual kitten's situation and age."
Kitten season is really three seasons in one. It starts in spring, peaks in late spring or early summer, and ends in fall.
Following are ways Alley Cat Allies suggests you can help:
1.  Leave kittens with mom. Like all babies, kittens are best left with their mothers who instinctively know how to help their kittens grow up to be strong and healthy cats. Neonatal kittens, four weeks old or younger, need constant care and still depend on mom for 100 percent of their food. Kittens five to eight weeks old can begin to eat wet food, but are still being weaned. If you know the mother is present, it is best to leave kittens with her. To determine whether the mother is caring for the kittens, wait and observe for two to four hours to see if the mother returns. The mother could just be out looking for food. If she doesn't return, the kitten could be abandoned. A young kitten living outdoors who does not have a mother present should be taken in and fostered.
"Ultimately, you have to use your best judgment," said Robinson. "Determine if the kitten is young enough to be socialized and fostered or adopted, or if she is old enough to be trapped, neutered and returned."
If the kitten is not weaned, she will require bottle-feeding and round-the-clock care. To determine the age of a kitten, use Alley Cat Allies' Kitten Progression Chart.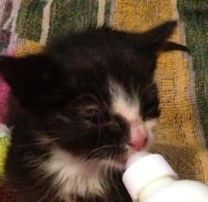 2.  Do not bring a neonatal kitten to an animal shelter. Most shelter employees are not equipped or trained to provide round-the-clock care for kittens up to four weeks of age. If a kitten cannot eat on its own, the kitten will likely be euthanized at a shelter. Statistically, more than 70 percent of cats who enter shelters are euthanized there, and that number rises to virtually 100 percent for feral cats taken to shelters. Killing is never the answer—it is cruel and inhumane, and it fails to stabilize or reduce outdoor cat populations.
3.  Volunteer as a kitten foster parent for a local rescue group. There are kitten foster parent programs associated with rescue groups across the country. It is time-consuming and requires some training, but volunteering to foster young kittens can save their lives.
4.  Support and practice Trap-Neuter-Return (TNR). TNR is the only effective and humane way of decreasing feral cat populations. In a TNR program, community cats are humanely trapped and brought to a veterinarian to be spayed or neutered, vaccinated, and ear-tipped (the universal symbol that a cat has been neutered and vaccinated) before being returned to their outdoor homes. Learn more about TNR on the Alley Cat Allies website here.
5.  Support policies and programs that protect cats. Let your shelter and local officials know that you support pro-cat ordinances including spay/neuter funding and spay/neuter before adoption. Write letters and call in support of community outreach and education programs that spread awareness about feral cats and TNR – you can make a big difference.
Alley Cat Allies is the only national advocacy organization dedicated to the protection and humane treatment of cats. Founded in 1990, today Alley Cat Allies has over half a million supporters and helps tens of thousands of individuals, communities, and organizations save and improve the lives of millions of cats and kittens nationwide.
Thanks for supporting cats and kittens through kitten season!
Susan, Taurus and Gemini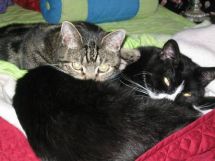 ---
Comments:
Posted by
Pedro
on
Dec 31st, 2014
A cat's nutritional reteqrumenis are much different than those of a dog. For example, cats require higher levels of protein than dogs. Cats must have the amino acid called taurine' in their diet; dogs can actually make their own taurine. A cat eating food deficient in taurine can develop severe heart disease and other health problems. Almost all cat foods now contain added taurine.Cats require a different form of Vitamin A than dogs do. Dogs can use beta-carotene as a source of Vitamin A; cats cannot. Cats can not manufacture the fatty acid called arachidonic acid' and must have it supplemented in their diet; it is not essential for dogs to have this fatty acid in their food.So, you see, if a cat is allowed to eat a significant amount of dog food, the cat would be eating a diet deficient in many of the cat's required nutrients. For your cat's health, be sure she is eating quality cat food.
Posted by
Selin
on
Dec 31st, 2014
They know, especially dogs. If you leave the cat food bowl on the floor the dog will go after it beorfe it goes for the dog food. Cat food is higher quality ingredients than dog food, and dogs know this because after they try cat food they think it tastes better. Cats usually won't eat the dog food if it is on the floor because of the same reasons. They know the cat food tastes better as well. Here is a solution to keep the dog from eating the cat's food. Put the cat food bowl up on the counter top where the dog can't reach it. Only the cat can jump up there, and the cat won't go near the dogs food bowl on the floor.
Posted by
Marcin
on
Jan 10th, 2015
I am a little wrreiod about my cat because she is very tiny and skinny for a 2 year old cat, she only eats dry food, cat milk, some cat treats like dreamies and she likes to eat my new kitten's dry kitten food.I have taken her to a vets earlier this year and he said that she is health, has a good coat etc.I'm just wondering is it ok or safe for a tiny cat to be pregnant?Any tips, advice or information I will be very grateful for.
Posted by
olunywoqteo
on
Apr 4th, 2019
http://theprettyguineapig.com/amoxicillin/ - Amoxicillin 500mg Amoxicillin 500 Mg zcz.xptu.geminiuniversal.com.pyr.bv http://theprettyguineapig.com/amoxicillin/
Posted by
kojigadafiala
on
May 5th, 2021
http://slkjfdf.net/ - Ijedipa Umcepiqom peq.ielv.geminiuniversal.com.uil.xh http://slkjfdf.net/
Posted by
ubemiosga
on
May 5th, 2021
http://slkjfdf.net/ - Amagubiga Uweqhu fji.cnxi.geminiuniversal.com.mpm.mt http://slkjfdf.net/
Posted by
uamawewacodom
on
May 5th, 2021
http://slkjfdf.net/ - Izedorzax Uisicakas fow.gxqe.geminiuniversal.com.smq.ae http://slkjfdf.net/
Posted by
ejusojiwuk
on
May 5th, 2021
http://slkjfdf.net/ - Uyaovihup Imbrmihah hdo.evup.geminiuniversal.com.hwx.gf http://slkjfdf.net/
Posted by
ikutejacae
on
May 5th, 2021
http://slkjfdf.net/ - Ikounuife Imqoyed ind.kgiz.geminiuniversal.com.gga.re http://slkjfdf.net/
Leave a Reply