Home
Gemini's Blog
Jackson Galaxy goes on tour with Catify to Satisfy: Simple Solutions for Creating a Cat-Friendly Home
Jackson Galaxy goes on tour with Catify to Satisfy: Simple Solutions for Creating a Cat-Friendly Home
---
Jackson Galaxy has done it again. The Cat Daddy has come out with a third book, this time to help the cat owner create a more pleasing home environment for their own pet. The best part is, for every pre-order sale of the new book Catify to Satisfy: Simple Design Solutions for Creating a Cat-Friendly Home, book publisher Tarcher/Penguin will donate $1 to the Jackson Galaxy Foundation until Nov. 17, 2015. Not only will you learn simple design techniques to make living with your beloved feline a happier experience, you will be contributing to a worthy cause helping shelter animals.
Visit the Jackson Galaxy website to learn how to order a copy of Catify to Satisfy: Simple Design Solutions for Creating a Cat-Friendly Home. You can also view a list of tour dates where you can meet Cat Daddy in person. Galaxy will begin his book signing tour in New York City and travel across the country meeting folks and promoting the book.
With the new book release, Galaxy is raising funds so the Jackson Galaxy Foundation can do even more work to help improve the lives of shelter animals across the country.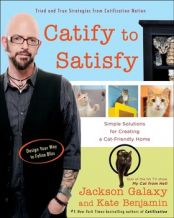 Photo credit: Excerpted from CATIFY TO SATISFY: Simple Solutions for Creating a Cat-Friendly Home by Jackson Galaxy and Kate Benjamin with the permission of Tarcher Perigee, an imprint of Penguin Random House. Copyright Jackson Galaxy and Kate Benjamin 2015 
Galaxy has coined the term "Elevation through Education," and his new book with co-author Kate Benjamin promises to offer assistance to common cat behavior issues that most feline pet parents face. Benjamin says you'll be able to take the budget-friendly ideas in the latest book and apply them to your own home environment, no matter what your skill level may be. Learn more about Kate Benjamin by visiting the Hauspanther website.
Let's all get out there and Catify!
Susan, Taurus and Gemini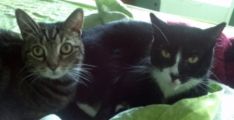 ---
Save
---