National Answer Your Cat's Questions Day
---
Are you listening to your cat today?
Check your calendar, folks. Today is National Answer Your Cat's Questions Day. That's right. The one day of the year that your feline friend gets your undivided attention and you tell it like it is.
Since Taurus is the more vocal of my two, I decided to focus on him today.  Ok, what are your questions today, buddy?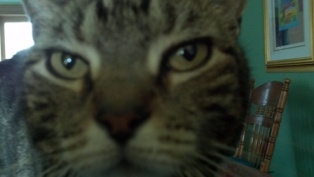 I think what he is asking me here is "Why are you shoving that camera in my face?"
Because it's National Answer Your Cat's Questions Day.  So go ahead.  Ask. 
Silence.
Oh well.  We don't always get what we ask for.
The point is, it is your cat's behavior that begs the question.  Is he hiding when company comes to your home?  Does he growl when a stranger picks him up?  Is he missing the litter box lately?  Is he eating less than usual or drinking more water than usual?  He poses questions constantly by his behavior, and in order to answer, you need to watch and listen.
Communication between you and your cat should be two-way every day.  You will have a much happier relationship and appreciate each other more in the long run.
Happy National Answer Your Cat's Questions Day! 
Susan, Taurus and Gemini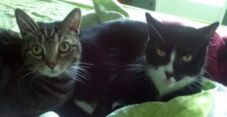 ---
---
---