Home
Gemini's Blog
My Dog Ate It dog treats gives back to the Humane Society of Skagit Valley
My Dog Ate It dog treats gives back to the Humane Society of Skagit Valley
---
This new line of treats for dogs, My Dog Ate It, really caught my attention. Why? Not only do they give a donation to the Humane Society of Skagit Valley, Washington, for every bag sold, they promote it with laughter as the main ingredient. How can one go wrong?
The founder of the company, John Bendtsen, obviously loves dogs.  He says My Dog Ate It dog treats salute and honor all the funny, goofy, angelic and trouble making moments we share with our best friends; from chasing the mailman, using the remote control as a chew toy, getting into the trash. You get the idea he is trying to convey here.
As the story goes, the inspiration for My Dog Ate It dog treats came one day while Bendtsen was on a camping trip with friends and their dogs.
"We watched as all the dogs were more interested in the squirrels than their dinner kibble," shared Bendtsen. "That's when I realized we humans have it all wrong.  We've developed dog foods and treats with flavors like 'beef with gravy' when all the dog really wants to do is rummage through the neighbor's garbage, chase a squirrel up a tree, and roll in yucky stuff."
Bendtsen says that each My Dog Ate It dog treat shares one of those antic moments that make you laugh, make you smile, make you remember when. The founder promises your dog will love the treats.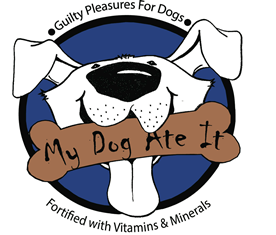 My Dog Ate It dog treats come in one pound bags containing 50+ unique "flavors" each sharing inspirations of a dog's guiltiest pleasures with fun, entertaining messages, and cute illustrations. Dog lovers select a treat from the bag and are entertained as they read the individually hand wrapped messages conveyed with a chlorine free label printed utilizing non-toxic vegetable based ink. Dogs, in turn, get a yummy treat.
In addition to providing a donation to the Humane Society of Skagit Valley with every bag sold, the company makes fun holiday gifts available in one pound bags for $12.99 and includes free shipping with three or more bags purchased. 
My Dog Ate It dog treats can be purchased from the company website or call 360-391-1450. Ask about wholesale pricing.
Hope you found this helpful!
Susan, Taurus and Gemini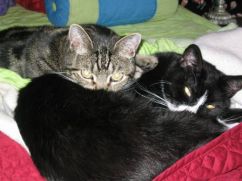 ---
---