Sponsor a rescue dog and save a Veteran
---
Therapy dogs are of great importance to veterans suffering from PTSD. Guardians of Rescue is currently aiding veterans returning from overseas through their Paws of War program. The team rescues dogs from kill shelters and war torn areas, trains them, and then carefully matches them up with a PTSD patient, to help them through their recovery.
Of the thousands of service men and women in the armed forces overseas, an increasing number of troops are now returning with post-traumatic stress disorder, PTSD.
According to the United States Department of Veterans Affairs, PTSD can occur after a life-threatening event or trauma, and can eventually lead to major health and mental health problems.  Sleeplessness, memory loss, and overall anxiety are just a few of the symptoms of those suffering from this disorder, and finally, an antidote has been found in the form of partnering the PTSD sufferer with man's best friend. 
"Therapy dogs are of great importance to veterans suffering from PTSD," says Robert Misseri, CEO, and founder of Guardians of Rescue, a non-profit organization dedicated to helping veterans through their Paws of War program. "We have placed multiple dogs with veterans suffering from PTSD, and our Paws of War program has been proven successful time and time again in helping our service men and woman return to their normal lives," says Misseri.
"It is our belief that heroes deserve heroes, and in order to make this possible, help from the public is critical so that we may meet our goals," says Misseri. "We have implemented a program requesting a donation of $2000 to take a rescue dog and train and prepare him for the task of becoming a returning veteran's partner in wellness. This is an expensive task, but with the help of our volunteers and the monetary aid of our citizens, we strive to succeed."
Guardians of Rescue is on call and staffed entirely by its tireless volunteers every day, every hour.  Funded only by donations, the organization is appealing to all animal and people lovers to help it continue its good work.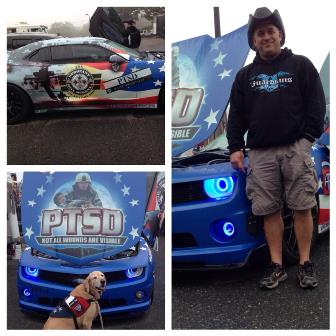 Photo Credit: Guardians of Rescue / Facebook Page
Sponsoring a therapy dog will not only save the animal but will go towards the training to become a service companion for a veteran in need.  By sponsoring, you will receive a certificate with the name and picture of the dog you saved, and in doing so ensure that he will then help save a veteran.
"Sponsorship is a great way to become personally involved, as you can monitor the dog through the training process and placement, says Misseri. We are hopeful that this sponsorship will help us continue our rescue efforts, and we encourage personal donations as well as corporate ones, anything that helps us reach our goals of easing the pain of veterans suffering from this illness and the placing of animals in need of homes. All donations, no matter how small, are needed and appreciated, as the cost of properly training these service animals is high."
Guardians of Rescue is an organization based in New York whose mission is to protect the well-being of all animals. They provide aid to animals in distress, including facilitating foster programs, rehabilitation, assisting other rescue groups, and providing support to families, both military and not, who need assistance due to economic factors. To learn more about Guardians of Rescue, visit their website.
You can make a difference in someone's life and in some dog's life.
Susan, Taurus and Gemini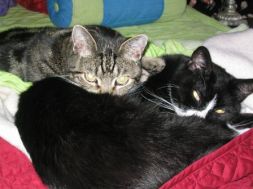 ---
---