Home
Gemini's Blog
Where to find adoptable pets plus quirky gifts for pets and people
by: Susan Stokes
Where to find adoptable pets plus quirky gifts for pets and people
---
Hot deals, cool stuff…
With Cyber Monday around the corner, today in our "hot deals, cool stuff" category, I decided to talk about Overstock.com, an online site where pet products abound – but that's not all.
Overstock President Story Simon had this to say in her November press release:
"Pets are family members. We have a lot of fun, unique and sometimes quirky gifts that are perfect for you and your pet."
What if you are a pet owner wannabe? Or already have a pet and want to add to your family? Did you know that Overstock offers a pet adoption service on its website, too? Personally, I had no idea.  So I gave the service a try.
I proceeded to their website and found the Pet Adoptions tab on the Home Page. After entering in my zip code and requesting a 10 mile radius in search of a cat in the search function, I was happy to see 101 pets show up. Many were CAPIC cats and kittens available for adoption, a rescue group I have written about many times. I was even able to filter the results by age, sex, breed, size, color and more.
Overstock boasts their online pet adoption service offers customers access to real-time updates of opportunities to adopt adorable animals in thousands of shelters nationwide.
When you scroll down the page, you can find tips on pet care, suggestions for pet supplies, and have the opportunity to donate to Best Friends Animal Society.
In the online pet store, Overstock offers pet beds, toys, apparel, treats, health supplies, grooming products and much more for pets this holiday season and beyond.
Following are a few of Overstock's top picks for pets mentioned in their press release that they hope folks check out while holiday shopping:
K&H Outdoor Heated Kitty House - $58.99
Bone Bons Organic Dog Treats - $21.59
Trixie Lukas Cuddly Cat Cave - $39.99
Sophisticated Pup Dog Ruffle Coat - $53.99
Dogzzzz Round Large YinYang Dog Bed - $69.99
Happy Shopping! But remember, the best gift you can give in the world this holiday season is a loving forever home to a needy pet.  When it comes to taking home a new pet, Adopt, Don't Shop!
Susan, Taurus and Gemini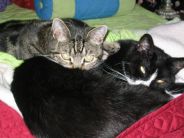 ---
---