Happy Independence Day from Gemini and Taurus
---
Today we celebrate Independence Day with thoughts about well-known artist, environmentalist and animal rights activist Peter Max. He created a wonderful piece of artwork of the United States Flag, and we found it to be the perfect choice to pair with our happy holiday message from Gemini and Taurus.
Peter and his wife Mary have done many wonderful things to help support and raise awareness for animal rescue and animal welfare.  Peter was a huge influence on Mary regarding his love for animals after they first met, and she eventually became a board member of the American Society for the Prevention of Cruelty to Animals. 
Numerous articles and press releases have been written about Peter and his wife, from receiving the "Preserve the Putnam Award for Charity Work" to the support by Alley Cat Allies and their efforts to raise awareness and campaign for humane treatment of stray and feral cats. His art has even been used to help raise awareness of the cruel plight of urban carriage horses.
So, for this Independence Day, we're celebrating not only our nation's anniversary of the adoption of the Declaration of Independence on July 4, 1776, but our love and respect for Peter Max and all he and his wife have done for their love of animals.  Learn more about Peter Max at PeterMax.com.
Have a Safe and Happy Holiday!
Susan, Gemini and Taurus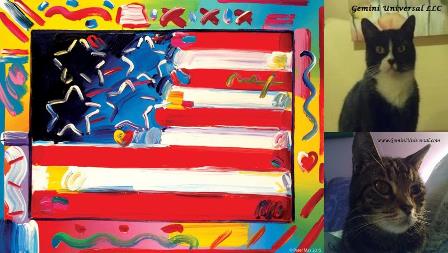 ---
Save
Save
---
---