Remembering Willow, the runaway dog
---
---
There is a saying that things happen for a reason. I'm not sure exactly yet why Willow, a runaway dog, was brought into my life other than to increase my own awareness of how deeply we love our pets and consider them our family members – and also to meet some beautiful new people and animal lovers like myself. Perhaps Like does attract Like.
One dark, rainy night in late June I got an email from the animal hospital asking to please post a notice from Home Again – a dog named Willow is lost! I found the next day that folks in the area were sharing the post, seeing the dog, and desperately trying to catch her.
Later, while at the pet store, a woman walked in with flyers. Lo and behold, it was Willow's mom, still desperately trying to find her beloved dog and posting flyers everywhere in the area. She had enlisted the help of the Police by then, who were on the lookout. The fear was that the fireworks scheduled in town that night would excite the dog into running further away from home in panic.
Days passed, and the sightings of Willow posted on Facebook kept mounting, while the dog eluded everyone. Finally, the sad day came with a Facebook post – Willow has "passed." That was all I knew.
Again, while at the pet store a few days later, a woman walks in to deliver some Memorial cards for Willow – Willow had made her way to Willow Road in Hillsborough, and sadly got hit by a train while on the tracks. I felt compelled to attend the Memorial Service and Repass for this lovely dog whose story kept popping up in my life over and over – especially when I learned the owner was practically a neighbor of mine.
The Memorial Service took place on July 12, 2015, at the location closest to where Willow passed on. It was tearful, yet joyful, to be part of such a lovely and touching experience with a new group of people I now call friends. Willow's mom pulled out the stops for her little girl. Banners, photos, flowers, a lovely urn with her ashes – this dog was celebrated in life and celebrated in death.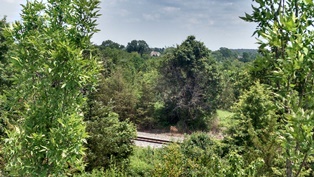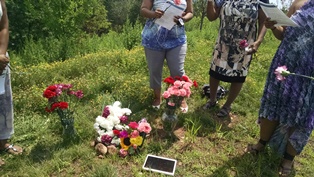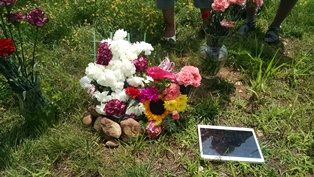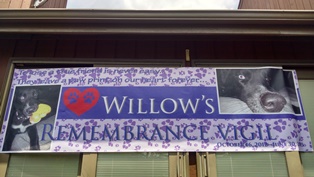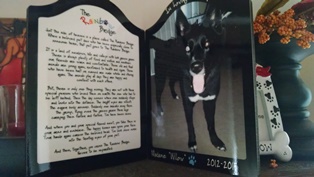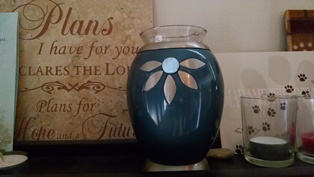 I'm sure Willow is looking down at us from Rainbow Bridge with a big doggy smile on her face. Her life as Willow on earth was short-lived, but her memory lives on at Rainbow Bridge, forever in our hearts.
Susan, Taurus and Gemini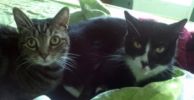 ---