One step forward for pet evacuation procedures in New Jersey
---
Pets may soon be permitted to evacuate with owners on public transportation. A bill that would allow people to evacuate with their pets on trains and buses during a state of emergency took another step toward becoming law earlier this week.
An amended bill was approved 73-0 by the Assembly on January 13, 2014. It will be returned to the New Jersey state Senate for consideration.
As reported by the Asbury Park Press:
"This is a wonderful measure, and we're glad New Jersey will have this wonderful protection," said Kathleen Schatzmann, state director for the Humane Society of the United States. "We'd hope all responsible pet owners would have the means to transport their (companion) animals in a safe manner during a state of emergency."
Cats and dogs would be allowed to ride public transportation with their owner as long as they are in a carrier or leashed during a mandatory state of emergency evacuation. The only exception is that the pet must not constitute a health or safety hazard. The provision only covers domestic animals.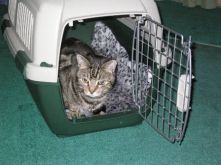 The bill was initiated because of instances such as Hurricane Sandy where people refused to evacuate their homes without their pets.  Shelters which are already overflowing with pets in need of homes are not always able to accommodate more pets during states of emergency either. Pet owners face a terrible dilemma of either leaving the pet behind or staying with the pet during unsafe conditions.
Let's hope the bill becomes law. I would certainly need to take my pets with me if forced to leave my home.  How about you?
Susan, Taurus and Gemini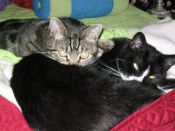 ---
---