Earth Day Party for the Planet™ at Naples Zoo
Start your Earth Day 2013 celebration at the zoo…
I have always been a big fan of zoos. Where else can you see so many amazing creatures up close and personal? There's a party going on at the Naples Zoo at Caribbean Gardens on Saturday, April 6, 2013 in celebration of Earth Day. Maybe some of you that live in the area might want to attend.
From 9 a.m. to 1 p.m. on Saturday, April 6th, Naples Zoo at Caribbean Gardens is joining with over 100 accredited zoos and aquariums across the nation this month to Party for the Planet™ in celebration of Earth Day on April 22, 2013 creating North America's largest combined Earth Day celebration.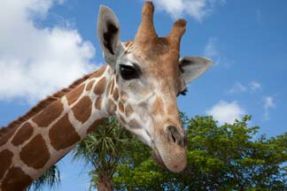 Credit: Naples Zoo
Conservation-based groups and local businesses with a green focus will be on-site to share ways to be more Earth-friendly. Kids will receive free conservation focused gifts from participating partners. Volunteers from Kohl's Cares Associates in Action community program will help guests enjoy a conservation-focused scavenger hunt throughout the gardens with a chance to win a free Family or Grandparent Zoo Membership!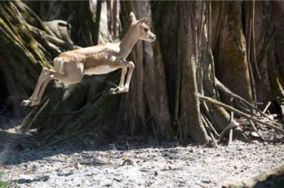 Credit: Naples Zoo
Best of all, Party for the Planet is taking place on the first Saturday of the month when Collier County residents are welcomed free to Naples Zoo each month. 
This year's celebration features lots of fun activities for the kids:
Conservation Station: Learn how state and regional parks and other organizations help protect our beautiful and important environment. With interactive booths, everyone will discover how we can all help!
Nature's Mall: What we purchase can play a major role in protecting our environment. Meet eco-friendly businesses to see how to be a greener consumer.
Zoo Town for Kidz: Good, green fun is what Zoo Town is all about. Come and enjoy eco-friendly arts, crafts, and games in this fun-filled area.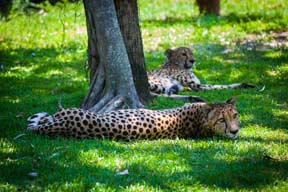 Credit: Naples Zoo
The Naples Zoo at Caribbean Gardens has a long tradition of conservation. In 1904, garden founder Dr. Henry Nehrling wrote, "It is high time to protect and preserve what is still left in Florida."
Before the Endangered Species Act was passed, Zoo founder Lawrence "Jungle Larry" Tetzlaff stated "Conservation is the name of the game." 
Today, the Naples Zoo carries on this ethic with conservation efforts ranging from local partnerships with South Florida's natural areas to international programs across the planet. In addition, the Naples Zoo plants over 100,000 trees a year in Africa, Asia and the Americas. 
Naples Zoo at Caribbean Gardens is a 501(c)(3) nonprofit organization cooperating in conservation programs both in and outside the wild for endangered species including a full day of fun presentations, giraffe feeding, and wild cruise through islands of monkeys, lemurs, and apes. Browse their website or call 239-262 5409 to learn more.
They are nationally accredited by the Association of Zoos and Aquariums and participates in Species Survival Plan® breeding programs to help secure the future of rare species in and outside the wild. In addition, a few examples of green initiatives at the Zoo include switching from golf carts to bicycles for its keepers and park attendants; serving shade-grown coffee; recycling and offering recycling for Zoo guests; irrigating with reclaimed water; and printing its brochures, maps, and more on recycled or FSC certified paper.
If you don't live near the Naples area, we hope you can visit a zoo near you this month!
Susan, Taurus and Gemini