Home
Gemini's Blog
Update on our Current Cause, funding a Service Dog for a TBI Survivor
Update on our Current Cause, funding a Service Dog for a TBI Survivor
We have some news to share about our Current Cause which is helping to raise funds so Traumatic Brain Injury Survivor, Greg Costa, can bring his service dog home.  Greg initially was matched to Gracie who was being trained at Wilderwood Service Dog training center in Tennessee, and even though she was quick to learn, after months of training she proved not to be the most ideal match for Greg.  Then along came Nia.
As noted in the update on the campaign site, as Gracie matured and practiced her commands, it became evident to her trainers at Wilderwood that she was better suited to another person with specific injuries and we were informed she has actually moved on to her new home and human companion.
However, at the same time it became evident that a dog in training named Nia was much better suited to Greg's needs, and so a more perfect match.  Nia is a black Goldendoodle, and we understand her name means "purposeful," which seems so well suited to her service dog role she will play in Greg's life. We are told she is expected to be united with Greg in early 2018.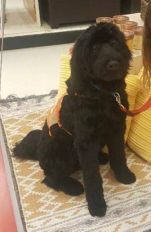 Credit: Wilderwood
We are very excited for Greg and Nia, but we are still short of our financial goal, and your continued support is appreciated. Donations on the GoFundMe campaign site can be made in increments as small as $5 or as large one can afford.  And remember, Sharing is Caring too!
As stated in the campaign update, we hope you will continue on this journey with us and stay tuned for more news about Nia and Greg!
Susan, Taurus and Gemini
---
---