Meet Gemini...
Visit Gemini's Blog for pet and animal news, information, event reviews and more.
Gemini was born along with his four siblings to a feral mom cat under a neighbor's woodpile in April, 2005.  He was the only Tuxedo in a litter of Tabbies, and he was the largest of the five kittens.  He grew to be fast, nimble and athletic with an insatiable love to play.

Meet Taurus...
Visit Taurus Tips for quick and timely notes regarding your pet's health, happiness and well-being.
Taurus is Gemini's "little brother."  He was the smallest of the litter, but the kitten with the loudest purr and the loudest cry for attention - and got it!  He earned the nickname "Lil Godzilla" for good reason. He's a tiger in disguise - but then again, he is the most lovable tiger you'll ever want to meet.

And I'm Susan...
Visit

Contact for the many ways to connect with us. Learn more about me and the business services I provide by visiting my Services page, LinkedIn profile and NOWA for details. 

My kitty family members provide constant inspiration to inform and educate readers about the feral cat community, animal rescue, and endangered species. Visit our Resources page for more organizations and services we like.
I hope you find this site informative.
Member/Treasurer of the Network of Writers & Artists (NOWA)

---
BizFest - June 18, 2015 - NOWA Table
Somerset County Business Partnership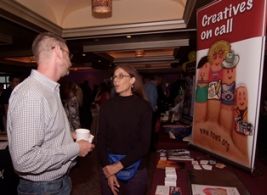 Photo credits: Frank Peluso Photography, NOWA 

---
---