Services provided by Gemini Universal LLC

---
Susan Stokes is a freelance writer and social media consultant with diverse industry experience and a special interest in veterinary practices,  nonprofit animal welfare organizations, and pet and animal businesses and service providers.
Freelance services include: Copy writing, website content, editing, proofreading, blogs, articles, newsletters, reviews, case studies, press releases, online publicity, trade show representation, fundraising projects, social media strategy and content creation.
Fees hourly or by project. Write to Info@GeminiUniversal.com to inquire. 
Need help with your Social Media? Learn about our Social Media services here.
Need help collecting online Reviews? - Learn the benefits of business reviews and reputation management.
Client List -  View our Client List here.
More about Susan Stokes:

Susan built her career in the publishing and trade show industries. She has a proven track record in sales, marketing, social media, virtual environment development and launch, online product research, building and maintaining customer relationships, and business development.
Through the course of her career of more than 25 years, she has blogged on the corporate level, written web content, produced sales and marketing copy for print and online, worked with public relations executives, and developed strategy to lead the business forward in the digital world including the use of social media channels. Visit Susan Stokes' LinkedIn profile here.
Susan has given presentations on the use of social media on the corporate level, demonstrated its use at trade shows, and was a Speaker at the 2010 Folio Show in New York City for the session entitled "The Rise of Virtual Events."
Her focus has turned to the animal world where she now specializes in writing about pet health and wellness topics, advances in veterinary medicine, and animal welfare issues. She maintains Gemini's Blog and is a member/treasurer of the Network of Writers and Artists. She was also an online Examiner columnist for National Cats, Pet Health and General Pets (June 2012 to July 2016) and New Jersey Animal Rescue (December 2011 to July 2016) until the Examiner online community folded.
Training and Courses include:

Finding Mr. Grant (Grant Writing Seminar)
The One Man Band Guide to Fundraising (Fundraising Seminar)
Canine Coaching (SAVE Animal Shelter)
Veterinary Marketing (Patterson Vet University)
Canine Nutrition Training (UC Davis Extension)
Feline Nutrition Training (UC Davis Extension)
Small Mammal Nutrition Training (UC Davis Extension)
Avian Nutrition Training (UC Davis Extension)
Fish & Herptile Nutrition Training (UC Davis Extension)
Pet First Aid and CPR - Certificate of Completion
Certificate of Completion - Fear Free Certified Professional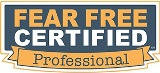 Continuing Education Credits for Veterinary Practices include:
How to Market Your Vet Clinic
Own Page 1 of Google: Local SEO and Ads
Google Analytics for your Vet Clinic
Social Media Best Practices
Managing your Clinic's Online Reviews
Mobile & Graphic Design for the Web
How to Produce Video Content
Email Marketing Best Practices
Susan has been an active volunteer for SAVE, A Friend to Homeless Animals in New Jersey, helping with various events and fundraising activities.
---
---
Advertise your pet-related product or service on this site. A portion of the proceeds will be donated to animal rescue efforts. Email info@GeminiUniversal.com for details.
---
---