New symposium: Integrative Care & Responsible Pet Parenting
Residents of New Jersey and surrounding areas will have an opportunity to participate in an upcoming symposium focused primarily on pet health and wellness. The "Integrative Care & Responsible Pet Parenting" symposium is scheduled for April 5, 2014. The event will take place at the Palmyra Community Center in Palmyra, New Jersey, from 12-5 p.m. Seating is limited, so early registration is advised.
The symposium will offer a full day of live, hands-on demonstrations and lectures by some of the most respected veterinary professionals and specialists in New Jersey.
Topics will include:
Acupuncture/cold laser therapy
Animal first aid/CPR
Veterinary specialty medicine
The human/dog bond
The importance of using a professional pet sitter
Pet trusts
Massage and the whole dog
Routine grooming
The event is hosted by Lori Genstein, owner/pet care provider of I've Got the Scoop! LLC. Genstein has been advocating, volunteering and fundraising for homeless animals for many years. Eventually she started her own pet sitting business. Genstein not only acts as a pet care provider, she also offers her services as a resource to pet parents, assisting them in becoming more confident and relaxed with their pets; enlightening pet parents to the importance of preventative care; and raising awareness to safety and pet-related hazards.
Lori Genstein enjoys special time with client Jasper. Photo used with permission by I've Got the Scoop! LLC
"In an effort to reach a large audience to promote health and wellness, nutrition, and preparedness, I'm very excited to host the first pet wellness symposium in our area," said Genstein. "Many expert veterinarians will be sharing their knowledge and expertise, so attendees shall feel empowered to make better decisions on behalf of their pets after participating. It also serves as a fundraiser for animal charities, so everyone benefits."
All proceeds from the symposium will be donated to local, no-kill nonprofit animal rescue groups in need of funds. Everyone is encouraged to join the excitement. Not only is this an educational experience, there will be fun giveaways and raffles. Enjoy a day with like-minded pet lovers and help donate to a good cause.
Exciting times!
Susan, Taurus and Gemini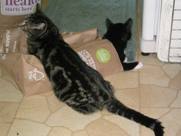 ---
as published on Examiner.com


---