Enter the 2017 Walkin' Wheels Pet Calendar Contest!
---
Here's a great new Calendar Contest for those of you with handicapped pets to participate in! HandicappedPets.com has announced its 2017 Walkin' Wheels Calendar Contest! The online pet product company has opened the contest to all pets who get around with the help of a Walkin' Wheels dog wheelchair. The contest is open for submissions now through July 31, 2016, and there is no entry fee.
Handicapped pet owners whose pets are using the wheelchair are advised to submit photos and contact information online. Submissions must only include animals in the photo, and at least one animal must be using a Walkin' Wheels dog wheelchair. Multiple submissions are allowed.
Selected submissions will be posted for public voting on the HandicappedPets.com Facebook page during the month of August 2016. Winners will be chosen based on how many "likes" their photos receive on the Facebook voting gallery, with a final vote taken by HandicappedPets.com staff to determine which photos will be included in the 2017 Calendar.
The calendar contest winners will be contacted in early September. A video request for calendar entries may be found here, which includes photos of last year's winners.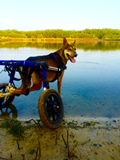 Coke, one of the 2016 winners, selected as the "cover dog" of the 2016 Walkin' Wheels Calendar. Photo courtesy of HandicappedPets.com
HandicappedPets.com is an online pet product company serving the needs of disabled, injured, and aging pets and their owners. Learn more at their website. Walkin' Pets by HandicappedPets.com is an online pet product company who believe that aging, disabled, and injured pets deserve to live happy, healthy lives. 
Good luck everyone!Susan, Taurus and Gemini

---
---