Congratulations Winn and AAFP Joint Scholarship Recipients!
The Winn Feline Foundation (Winn) and the American Association of Feline Practitioners (AAFP) support veterinary students who focus on feline clinical practice and research science which are vital to feline health and welfare. To that end, in 2016, the Boards of Directors of both Winn and the AAFP approved the development and implementation of a joint scholarship.
After an unprecedented number of applicants and positive feedback from veterinary education programs regarding the scholarship award, the boards decided to expand the selection from one to two recipients in the categories of clinical practice and clinical research scientist.
Congratulations to this year's winners noted in the organizations' press release: Laurel Krause, a junior at Colorado State University, was awarded the clinical research scientist scholarship, and  Summer Marsh, a senior at Colorado State University, was awarded the clinical practice scholarship.
Ms. Krause is planning to complete a small animal rotating internship in Southern California and intends to specialize in small animal internal medicine with special interest in geriatric feline medicine and endoscopy.
Ms. Marsh has always dreamed of working with cats and has held many community events in support of feline care. After graduation, she plans to work for a small animal veterinarian at Firgrove Veterinary Hospital in Puyallup, WA, where she will continue her passion of advocating for cats.
More about Winn and AAFP:
Winn Feline Foundation (Winn) is a non-profit organization established in 1968 that supports studies to improve cat health. Since 1968, Winn has funded over $6.5 million in health research for cats at more than 30 partner institutions worldwide. This funding is made possible through the support of dedicated donors and partners.
The American Association of Feline Practitioners (AAFP) supports its members in improving the health and welfare of cats through high standards of practice, continuing education, and evidence-based medicine. As a trusted leader in the veterinary community, the AAFP has a long-standing reputation and track record for facilitating high standards of practice and providing educational resources to veterinary teams, including guidelines for practice excellence and an annual conference.
We wish the recipients of this year's scholarships much success in promoting the welfare of cats!
Susan and Gemini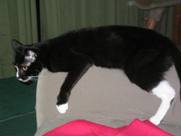 ---
---
---