Help Comes to Oklahoma Tornado Victims through Social Media
Helping pets and people in the aftermath of Oklahoma tornadoes...
Once again, I sat glued to the news on television and on the internet, hardly believing my eyes. The total destruction of Moore, Oklahoma by a super tornado was something out of the Twilight Zone. How can the same town get hit twice, with even more destruction the second time? We turn now to helping those people and pets in the aftermath. Social media once again plays a big part.
According to ABC News, there were 50 tornadoes within 24 hours ripping through the country with the highest level of devastation seen in Moore, Oklahoma on May 20, 2013. Concerned citizens have rallied through social media in channels such as the Pet Pardons Facebook page on May 20th to help spread the word for those in need.
Credit: ABC News Facebook - Pup survivor
Following is a list of some of the resources compiled that you can share or donate to in order to help people and pets adversely affected by this terrible natural disaster:
Moore OK S OKC Lost and Found Pets - This Facebook page was set up to help Oklahoma pet guardians share lost and found animals after the devastating May 20, 2013 tornadoes.
Tierra Madre Horse Sanctuary - If any horses have been left homeless or injured in Oklahoma and have nowhere else to go, please call 480-747-1070. The sanctuary is located in Cave Creek, Arizona.
Pet Food Pantry of Oklahoma City - This group is currently providing much needed food and emergency supplies for lost and rescued pets that have survived the Oklahoma tornadoes. You can donate to their fund here.
Donations can be dropped off at: 7949 S I-35 Service Road, Oklahoma City, OK 73149
Okc Pets – The Oklahoma City Animal Welfare Division is responsible for promoting public health and safety, for temporarily sheltering and providing humane disposition of unwanted or lost animals, and for promoting animal welfare so that pet ownership is a pleasure for owners without becoming a burden. They are a local organization providing advice and assistance and ways you can help.
Save
Save
We all do what we can. Wherever you live, stay safe.
Susan, Taurus and Gemini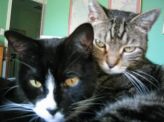 ---